Take a scenic walk to Ellis Falls through the fields of Malmsbury, with an impressive water race to one side and views over the gorgeous Coliban River to the other. Water cascades over the rocky river bed before plunging down Ellis Falls into a gully below. This pretty waterfall is best viewed in winter and spring when the Coliban River is flowing well.

Ellis Falls can be viewed from both the top and bottom of the falls, but be careful when exploring here as there are no proper walking tracks or viewing platforms.
Watch out for slippery rocks, sudden cliffs, uneven ground and prickle bushes. Supervise children at all times when approaching the waterfall.
How to get to Ellis Falls
Park your car at the corner of Adamson Street and Coghlan Street. Enter through the gate to continue along Adamson Street. This road takes you through a section of spiky trees before turning to the right and heading down toward the water race. Follow the track along on the left side of the water race. Before long you will come to a spot where you can cross over the water race to the other side (the crossing is pictured in the image gallery above) so that you are now walking between the water race and the Coliban River. When the water race turns off to the left further along, keep following the Coliban River straight ahead and you will soon reach Ellis Falls.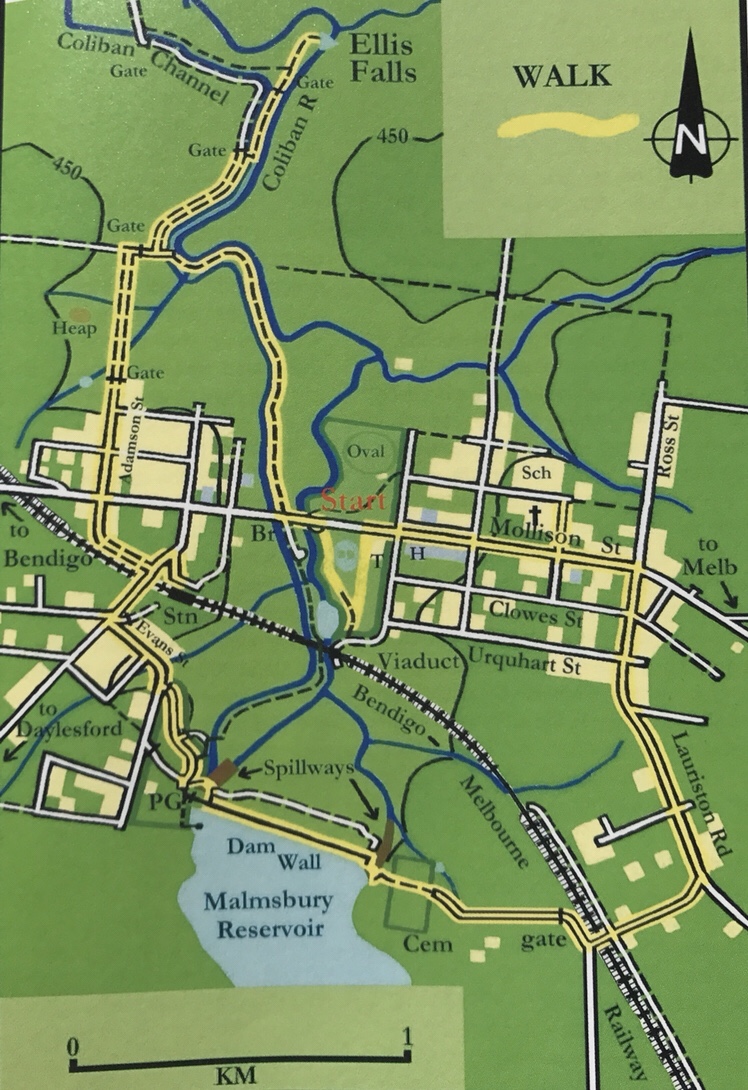 This map shows the way to Ellis Falls (as well as other interesting locations around Malmsbury). To walk to Ellis Falls, park your car at the gate on Adamson Street (the closest gate to the 'Adamson Street' label) and follow the walking track marked in yellow. Ellis Falls is marked on the map, top right.