Alongside a bush track just behind the cemetery in Maryborough, Victoria you will find the interesting remains of a
gold puddling machine
.
This puddler was reportedly operated in the early 20th century by Joseph Thomas Marshall of Pool St Maryborough Victoria, before he went off to the First World War. Sapper Joseph Thomas Marshall No 4037 joined the Australian Imperial Forces on the 16/3/1916. He was 5ft 5' high and weighed 11 st 8 lbs. He served in the Middle East in the Tunnelling Brigade and was wounded twice. Returned home after the war, Joseph married and lived on to the age of 76 years. This information has been kindly provided by Allan Marshall - Joseph Thomas Marshall was his Grandfather's brother.
The remains of the puddler behind the cemetery offer an unusual example of a
puddling machine
. Instead of the usual timber slats, it appears that the puddling trench was retained by concrete, and has a concrete floor. Most of the many puddling machines scattered throughout the bushland of the Victorian Goldfields are no longer anything more than a shallow ring-shaped depression in the ground, making this an excellent and late example of the technology.
Earth Resources
offers the following concise description of a puddling machine:
Puddling machines

were pioneered on the Victorian goldfields in 1854 as an affordable means of processing gold-bearing clay on a large scale.




A horse dragged a harrow repeatedly through a circular, barklined trough full of clay and water, 'puddling' the mixture into a thin sludge. Any gold freed from the lumpy clay would sink, remaining behind on the bottom of the trough after the watery sludge was drained off. A clean-up of the residue, using tin-dish or cradle, would bring the gold finally to light.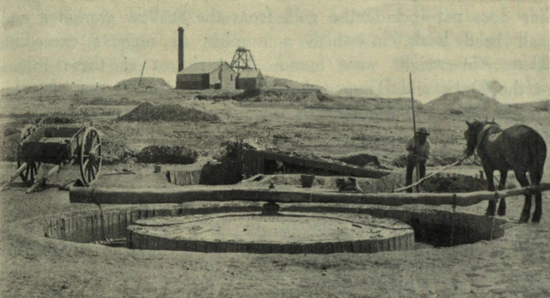 Photograph of a gold puddling machine used in Victorian gold mining.
Image source:

Federation University Australia E.J. Barker Library (top floor) Mount Helen Victoria
Puddling technology was developed entirely in Victoria from 1854. The need for these machines arose due to the enormous amounts of clay soil in the region which needed to be broken up to retrieve the gold. Puddling machines are a very significant development in the history of Victorian gold mining, as they are the only technology or method developed entirely on the Victorian Goldfields.
(source)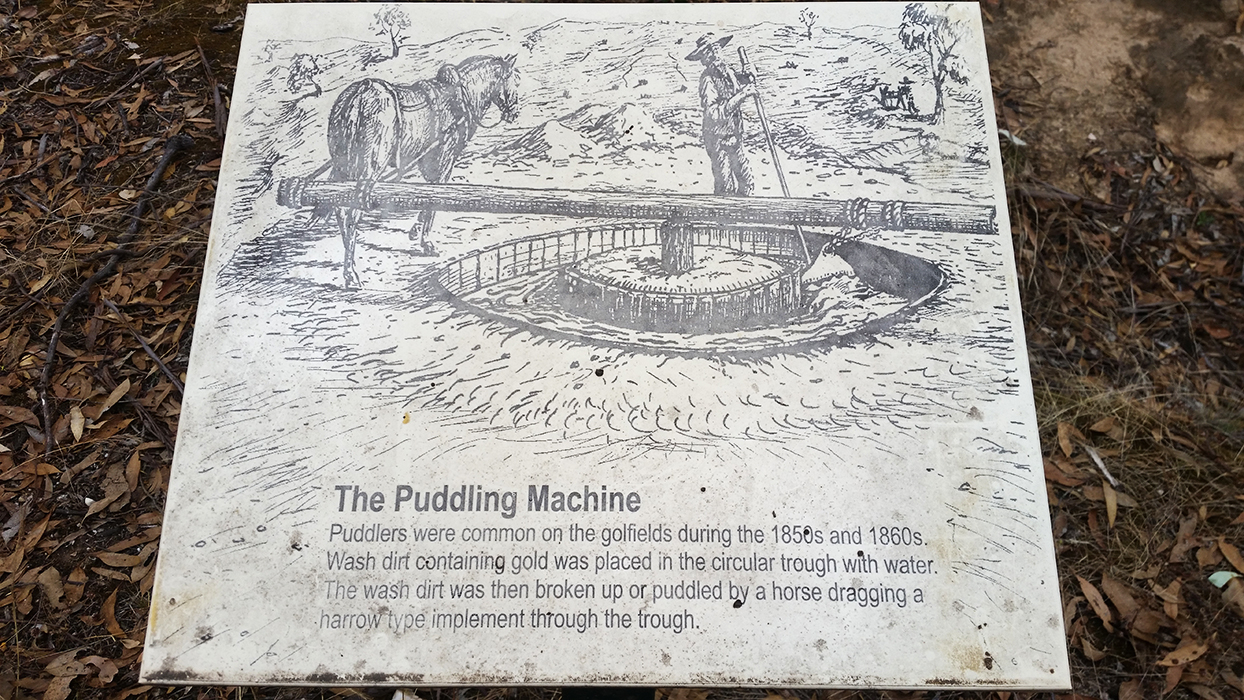 Information sign at the nearby Battery Dam, an old mine site turned eucalyptus distillery, regarding puddling machines.

Gold prospecting is allowed in this area, however it is important that you do not disturb the puddler itself as it is an important historical feature which must be preserved.
GEOLOGICAL MAP OF THE MARYBOROUGH GOLD FIELD, EARLY 20TH CENTURY
Geological map of the Maryborough gold field which shows historical features in superb detail, including reefs, leads, gullies/flats, and old workings. Originally published by the Department of Crown Lands and Survey, early 20th century. High quality, durable A1 print in a satin finish. Large, 594 x 891 mm. Go to online shop.