There are lots of trees and fallen logs surrounding the campground for kids to climb.
The Dam Campground is one of three campgrounds within the Mount Beckworth Scenic Reserve - the other two are
Cork Oaks
and
Manna Gums
.
Free camping at The Dam Campground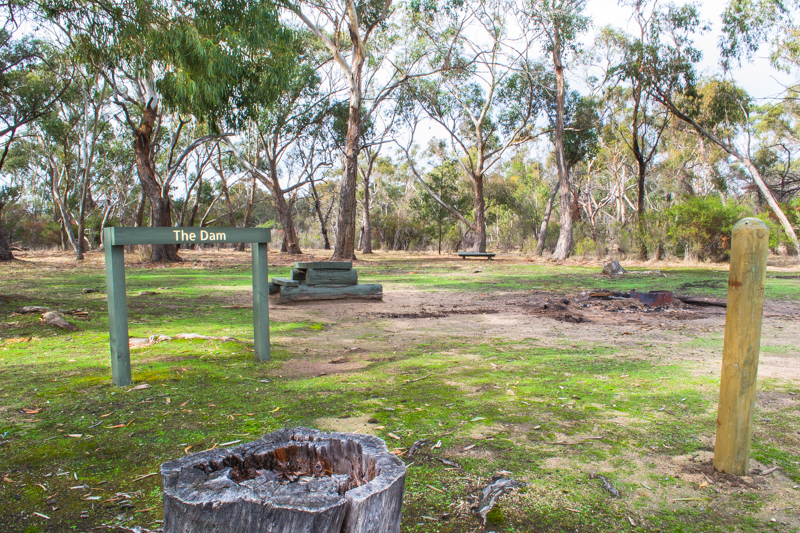 Free camping is permitted at The Dam Campground, no bookings are required.
The campground features a picnic table, fire pit, bench seat and wood fire barbecue. The wood fire barbecue and bench seat overlook the dam, and the camping area with picnic table and fire pit are located in a clearing on the other side of the road.
Are dogs allowed at The Dam Campground?
Dogs are permitted here if kept on a lead.
How to get to The Dam Campground
Enter Mount Beckworth Scenic Reserve from Mountain Creek Road, follow sign to The Dam Campground.
WALKS FROM THE DAM CAMPGROUND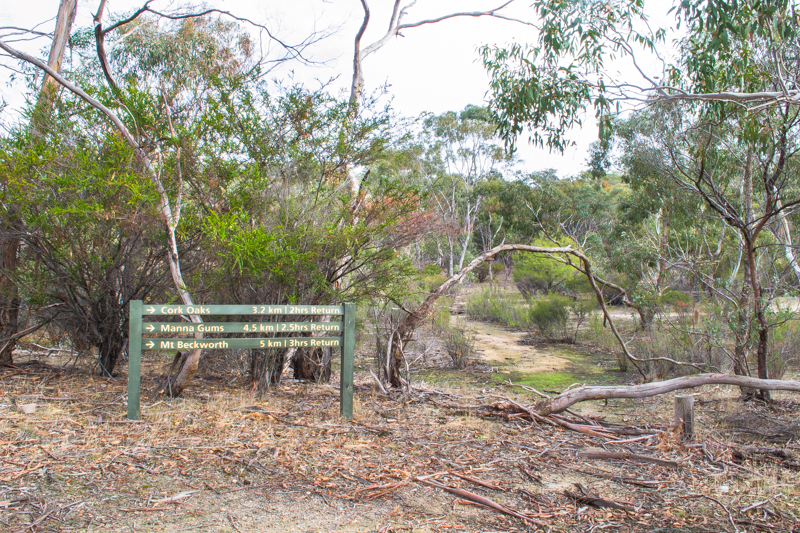 These walks start from a signposted track which is located just a moments walk down the road from The Dam Campground.
Distance: 5 km return
Time: 3 hrs return
CAMPFIRES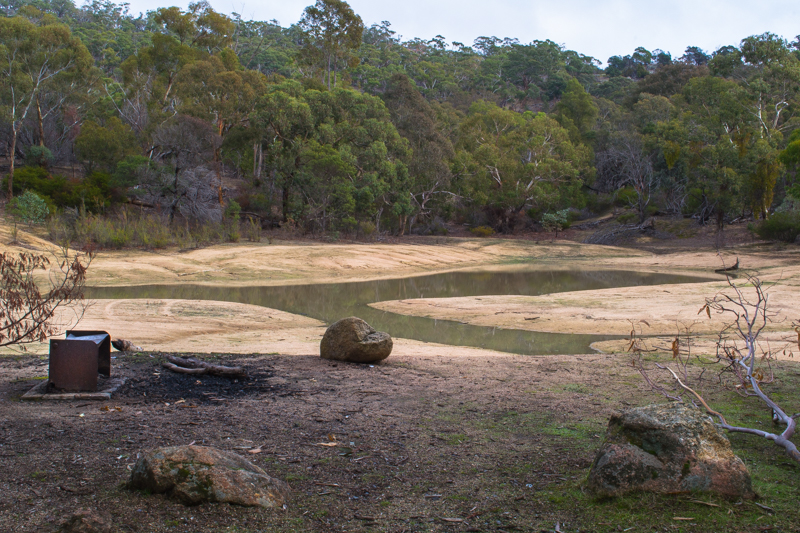 Wood collection is permitted within the park for camp fires only. Collect only dead wood from the ground.
This park has been assessed to have a high bushfire risk, and will be closed for public safety on days of Code Red Fire Danger Rating.
VEHICLE ACCESS
Access via Fentons Road, then Mountain Creek Road, then follow sign to The Dam once within the Mount Beckworth Scenic Reserve.
Easy access by all vehicles in dry conditions. Access to the campground in wet conditions may be difficult or impossible for 2wd vehicles, caravans and RVs.
MT BECKWORTH SCENIC RESERVE
The following text is displayed on an information sign at nearby Cork Oaks Campground, provided by Parks Victoria and Hepburn Shire Council.
Many natural treasures are protected for future generations in the island of bushland that is Mt Beckworth Scenic Reserve. The Mount's lone lollipop-shaped pine tree is on Victoria's Register of Significant Trees.
Around this time Major Mitchell passed through the area and named this granitic outcrop Mt. Beckwith - in honour of Sir Sidney Beckwith, a fellow officer in the 95th Regiment of Foot (Rifles) later known as Rifle Brigade. It became known as Mt. Beckworth after an 1859 Parish survey.
A group of students from Glendaruel Primary School plant a stand of five Monterey pine trees on the summit.
All but one tree were cleared for the establishment of an aerial survey beacon, leaving the present local landmark known as the 'lollipop' tree - trimmed of its lower branches.
During World War 2 the lollipop tree was used as a beacon for trainees from the R.A.A.F. No. 1 Wireless Air Gunners School (WAGS) based at the Ballarat Airport.
Mt Beckworth is protected as a Scenic Reserve. Prior to this it was grazed, quarried and logged - a disaster due to their degrading effects on the Mount's fragile granitic soils.
A haven for plants and animals
Spring wildflowers abound and more than 250 plant species are recorded here, including 35 orchid species.
The very old gumtrees here remind us of an older forest long gone from the area. Trees and plants hold the Mount's delicate granite soil together.
The open woodland, with its grassy understorey and logs also provides food and shelter for wildlife living here. Please do not pick wildflowers.
More than 100 bird species have been recorded here. Look for small finches, honeyeaters and larger parrots, falcons and eagles. Although not always easily seen many other animals live here also. Most are active at dawn, dusk and after dark.
Look and listen carefully during the day for kangaroos, wallabies and echidnas, while the cover of night brings out active possums, gliders and koalas.
Healthy Parks, Healthy People
Take some time to get healthy; explore, enjoy and discover nature's treasures protected here.
Walking is a great way to discover the nature and breathtaking views of the Mount. Carry water, wear a hat and sunscreen.
Camp for short stays at a number of camping sites with limited facilities. Bring your own drinking water and firewood.
Horse and mountain bike riding is welcome on any of the open, formed roads used for public access.