The Red, White and Blue Mine in the Muckleford State Forest is a fascinating place for a barbecue and bushwalk.
The historic mine is a sight to behold, with an intact poppet head, a mine shaft, machinery site, mullock heap and dams. The poppet head was originally from the Bendigo Deborah United Mine.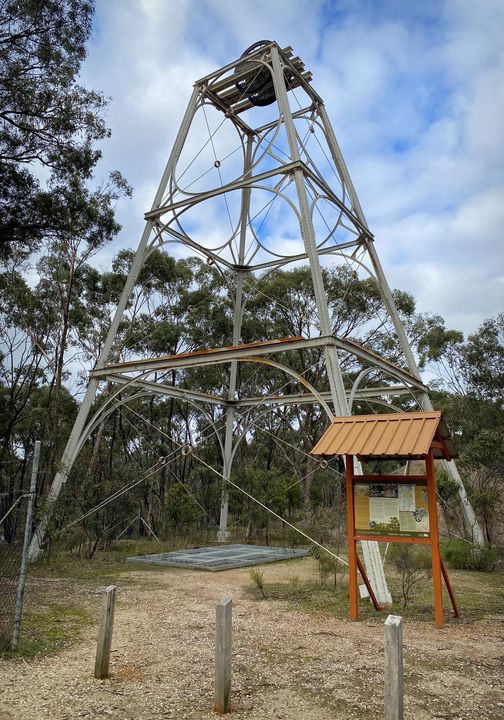 There are multiple picnic tables scattered around the area, each with its own wood fire barbecue (in great condition). Several tables have great views over the water of the dams.
Camping is allowed in the Muckleford State Forest. There is plenty of room at the Red, White and Blue Recreation Area to park caravans and buses, and you should be able to find a nice spot to pitch a tent.
There are no toilets at the recreation area.
Make sure you take your trash with you when you leave, as there are no rubbish bins.
The Red, White and Blue Walk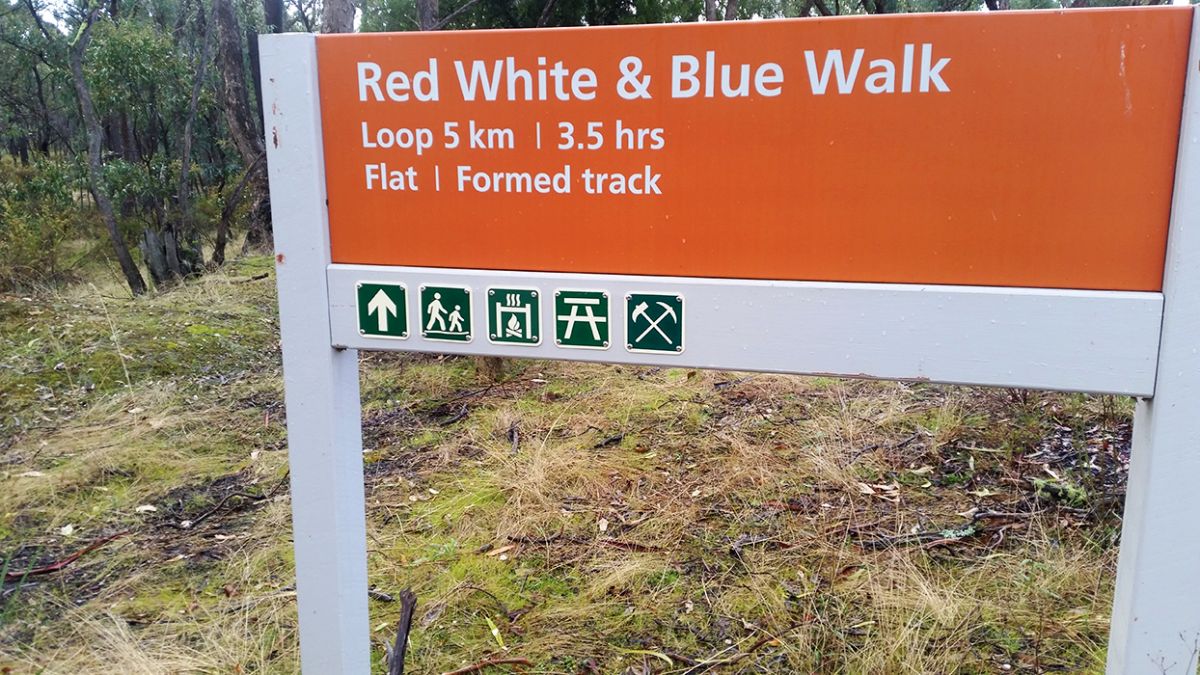 Flat, formed track. Signposted.
The Red,White and Blue Walking Track is an easy five kilometre walk through the Box-Ironbark forest to
Dunn's Reef
. It starts at the Historic Red, White and Blue Mine Site.
Along the walk you will find interpretive information boards telling you interesting stories of Muckleford State Forest's natural and cultural landscape that will inspire you to look at your surroundings through different eyes.
More information and history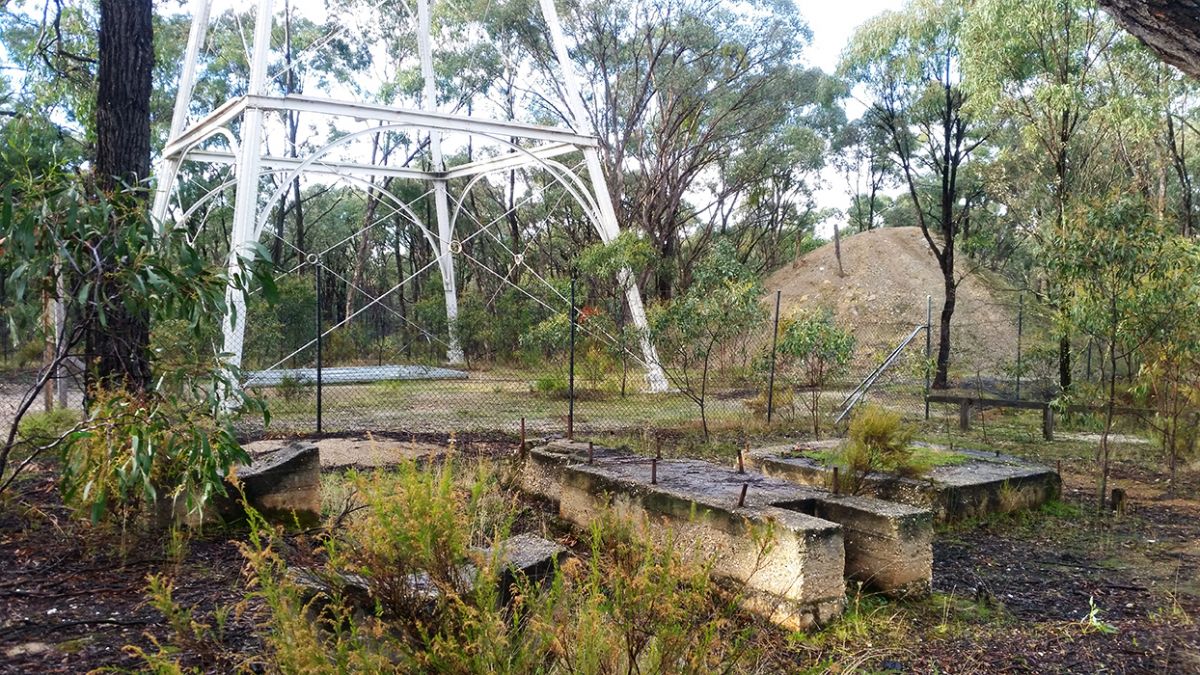 The following text is displayed on an information sign at the Red, White and Blue Recreation Area:
Intact, standing poppet head - tubular steel legs, winding wheels, remains of timberwork.
3-compartment shaft with its intact concrete baling pond.
To the south of the poppet head
Machinery site - remains of square concrete winder bed.
A concrete winding engine bed.
Several concrete air-receiver pads.
A boiler setting depression, an iron damper plate is visible on the south east corner of the engine site. The boiler setting has a short flue depression running from its rear end to the remains of a square brick chimney stack base.
A partially buried small narrow open cut associated with two filled (subsided) shafts. Both shafts still have sections of their wooden collars exposed.
Small intact mullock heap
Six short dumping lines from an earlier mining phase.
Two large dams.
A drain leading from the shaft's baling tank to the closest dam.
Extensive dumps of treated tailings.
A band of shallow alluvial sinkings runs south down the gully below the dams and continue as far as the Dunns Reef Track.
Several sections of concrete flooring and some post stumps.
Small exposed section of a stone footing (possibly a battery site).
The poppet head/concrete engine beds etc belonged to the Golden Age Gold NL (1957 - c. 1960), while the tailings were generated by Maloney's Red, White and Blue (1909 - 1915).
RED, WHITE AND BLUE - A SITE OF STATE SIGNIFICANCE
Also known as the Golden Age Mine and as Maloney's Red, White and Blue Mine
The Red, White and Blue Mine is a site of historical, archaeological and scientific importance to Victoria - it is listed on the Victorian Heritage Register of significant heritage places. Explore the range of intact relics from the past, which illustrate 20th century mining operations in the heart of Victoria's Box-Ironbark country.
The forest surrounding you is an ancient landscape which bears the imprint of many cultures. For tens of thousands of years Dja Dja Wurrung people occupied and roamed the area. Today, this heritage is still evident in the form of scar trees, rock wells, artifacts and ancient meeting places.
Surveyor-General, Major Mitchell, passed through this area on his third expedition in 1836. Pastoralists followed soon after to squat and establish sheep runs on the grasslands. Gold was found at the foot of Mount Tarrengower in December 1853. Following this, miners spread out through the forest in the pursuit of gold and the town of Maldon quickly grew - the scars of early mining can still be seen throughout the forest. Sources of gold included sandstone outcrops, quartz reefs and shallow alluvial (stream) deposits.
"Thousands upon thousands of tents extending through the gullies for about ten miles in every direction..." (Edward Snell)
"To some the diggings had the appearance of a graveyard - It was a sight! Mounds of earth lying beside holes presented the dismal appearance of a graveyard, men washing dirt in tubs, carrying its colour on their skin, hair, hats, trousers and boots, miserable-looking low tents their places of refuge. Where water was to be seen it was a puddle. The whole scene to a new chum was one of unspeakable squalor..." (James Robertson, in Records of Castlemaine Pioneers, p.47, Forest Creek, late 1852).
Early miners initially carried out shallow digging for alluvial gold deposits. As gold became harder to find miners used other methods such as sluicing, steam diversions and puddling machines to separate the gold. Later methods included quartz reef mining, open cut and shafts. Mining for gold below the water table required the use of machinery such as steam-powered pumping and winding machinery - as here at Red, White and Blue.
From Maldon quartz mining extended south along Sandy Creek, eastward and even to the top of Mt Tarrengower. Shallow alluvial mining was also carried out extensively along Back Creek. Gold was found at
Dunn's Reef
to the north during the late 1850s - the remains of a timber loading ramp can still be seen today. The first shaft was sunk here into the Red, White and Blue quartz reef in 1871. A number of shafts were sunk in the area along the reef, and mining continued on and off for many years. Between 1909 and 1915 a total of 2,369 ounces of gold was mined from here. Red, White and Blue was last mined in 1960 to a depth of 52 metres - at the time the site consisted of a poppet head and shaft, a steam boiler, winding engine and battery, change rooms, an office and storage rooms. The poppet head was originally from the Bendigo Deborah United Mine. The final days of mining here were deep reef mining for layers of quartz rock containing gold. Deep shafts would fill with water and had to be pumped day and night to stop the mine from flooding.
GREEN AND GOLD PROSPECTING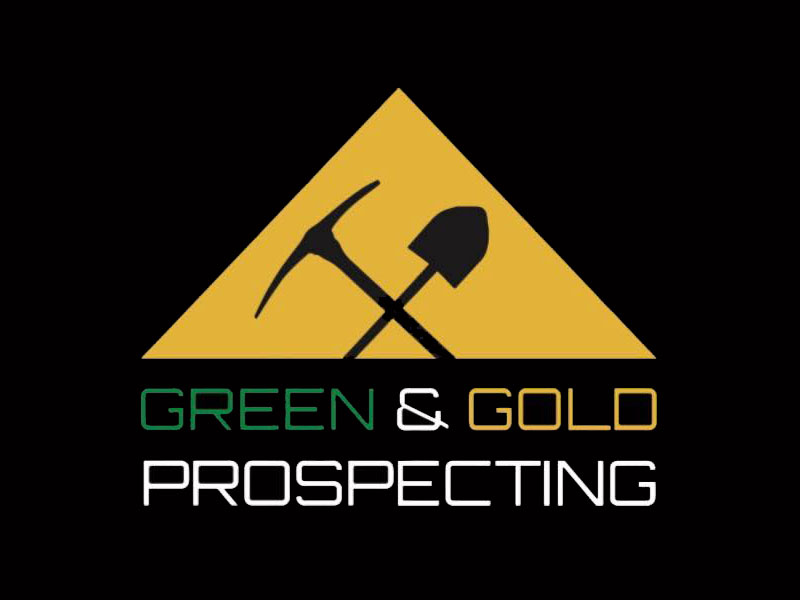 Are you looking for in-depth gold prospecting training, tips and tricks in Victoria's Golden Triangle?
Green and Gold Prospecting
provide exclusive one on one gold prospecting tours and training days, specialising in the Bendigo and Castlemaine regions. Great to book on your own or as a fun day out with the family, a training session with Green and Gold Prospecting offers valuable insight into the world of gold prospecting, and equips you with the knowledge you need to successfully search for gold on your own.
HISTORICAL MAP OF THE CASTLEMAINE MINING DISTRICT, 1860
Map of the Castlemaine Mining District which shows historical features in superb detail, including mining divisions, reefs, gullies, and gold workings. Mining Department, Melbourne, 1860. High quality, durable A1 print in a satin finish. Large, 594 x 891 mm. Go to online shop.