The Tarnagulla Soldiers' Memorial Park is a fantastic place to bring the family. It features a large undercover barbecue area with free electric barbecue, picnic tables, toilets, beautiful trees and grassy area, a playground with a shade sail, war memorial and cannon, kangaroo chair and giant checkerboard on the ground.
The barbecue area has a cement floor and features one electric barbecue, three picnic tables and a rubbish bin.
The playground is excellent and features multiple slides, several levels and monkey bars. This is a great playground for young children as the top levels are enclosed with safety walls.
There is a toilet block at the park as well as multiple park benches.
The kangaroo chair is very interesting, and sits alongside a giant checkerboard set in the ground.
A sign next to the kangaroo chair reads:
A Community project supported by the Commonwealth Government Australia, the Centenary of Federation Program, the Loddon Shire Council and the Communities of Pyramid Hill, Tarnagulla and Wedderburn.




The Kangaroo Chair represents the spirit of Federation by bringing together these towns within the Loddon Shire. The Kangaroo is a symbol of our natural Australian environment. The chair itself represents home. The drawings, created by children in each town, celebrate the 100 years of the Commonwealth of Australia by the local communities.



The park proudly features a war memorial and cannon. A sign alongside the cannon reads:
CANNON FROM HMVS NELSON




Presented to Tarnagulla Borough Council in 1898 and originally located at the Reservoir Reserve. It was fired on several occasions and weighs around 3 ton. It was relocated to Soldiers Park in 1960. The HMVS Nelson was built in 1805.
The Tarnagulla Soldiers' Memorial Park lies across the road from Tarnagulla Victoria Park, an attractive park from which several fantastic walking tracks begin.
Inglewood Motel and Caravan Park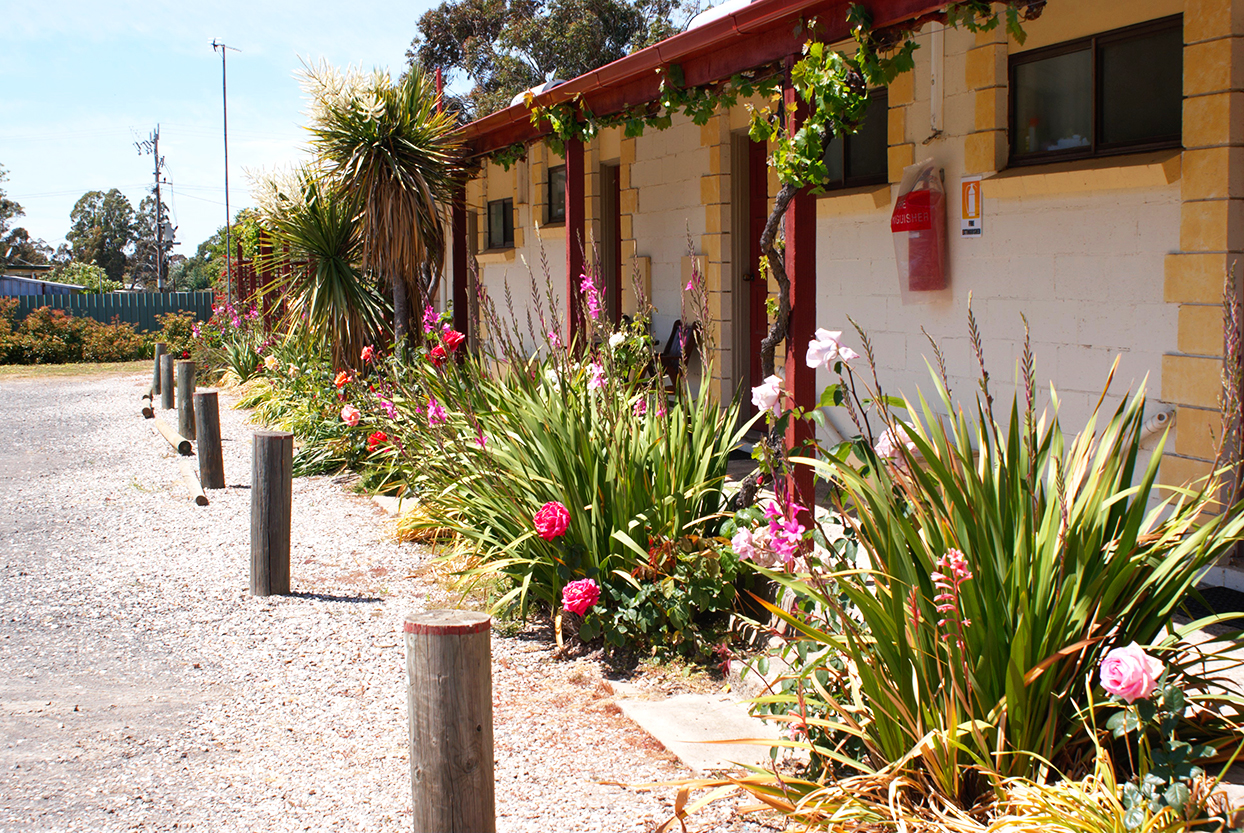 Inglewood Motel and Caravan Park
is a 10 acre bush park privately owned and managed by Jerry and Pauline Wellman in the gorgeous gold-rush town of Inglewood, Victoria. The park is within walking distance to cafes, shops and hotel entertainment, and is surrounded by State Forests. Inglewood Motel and Caravan Park is a popular destination for tourists and is located within the renowned Golden Triangle - a region of the Victorian Goldfields which is world famous for the size, purity, and quantity of gold nuggets found in the area.
Wedderburn Goldseeker Motel
Wedderburn Goldseeker Motel
offers classic country hospitality in the heart of Wedderburn, providing the perfect base for visitors to explore the beautiful Loddon Valley, the region's significant historical goldfields, and the surrounding towns of Inglewood, Bridgewater and Boort. Located two and a half hours from Melbourne and one hour from Bendigo, Wedderburn Goldseeker Motel is the perfect destination for your next getaway.