The Seaham Mine Bushland Reserve is a fascinating patch of bushland where the Seaham Company mine operated with much success from 1869.
There are many large mullock heaps, several dams, and a track which winds through the whole reserve.
This depiction of the Seaham mine was drawn by Australian artist William Taylor Smith Tibbits (1837-1906).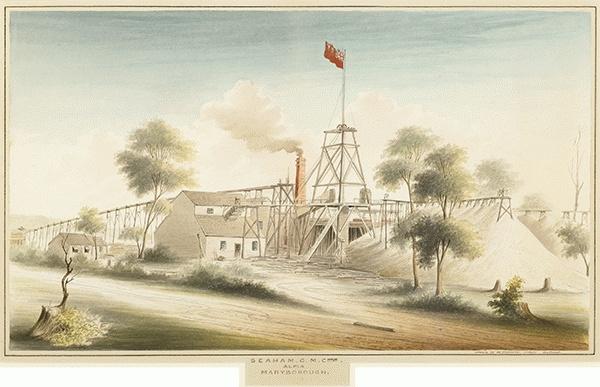 Watercolour and pencil on paper, mounted on backing sheet, signed and inscribed lower right: Drawn by W. Tibbits (artist) Ballarat, inscribed lower centre: Seaham G. M. Company/ Alma/ Maryborough, 29 x 49 cm ... Courtesy of Lawson~Menzies (now trading as Menzies) © William Tibbits or assignee (image source)
GEOLOGICAL MAP OF THE MARYBOROUGH GOLD FIELD, EARLY 20TH CENTURY
Geological map of the Maryborough gold field which shows historical features in superb detail, including reefs, leads, gullies/flats, and old workings. Originally published by the Department of Crown Lands and Survey, early 20th century. High quality, durable A1 print in a satin finish. Large, 594 x 891 mm. Go to online shop.