An undercover barbecue area lies at the back of the hall and overlooks a small fenced playground and multiple picnic tables, making this an ideal spot to stop in for a picnic while exploring the fascinating historic sites around Majorca.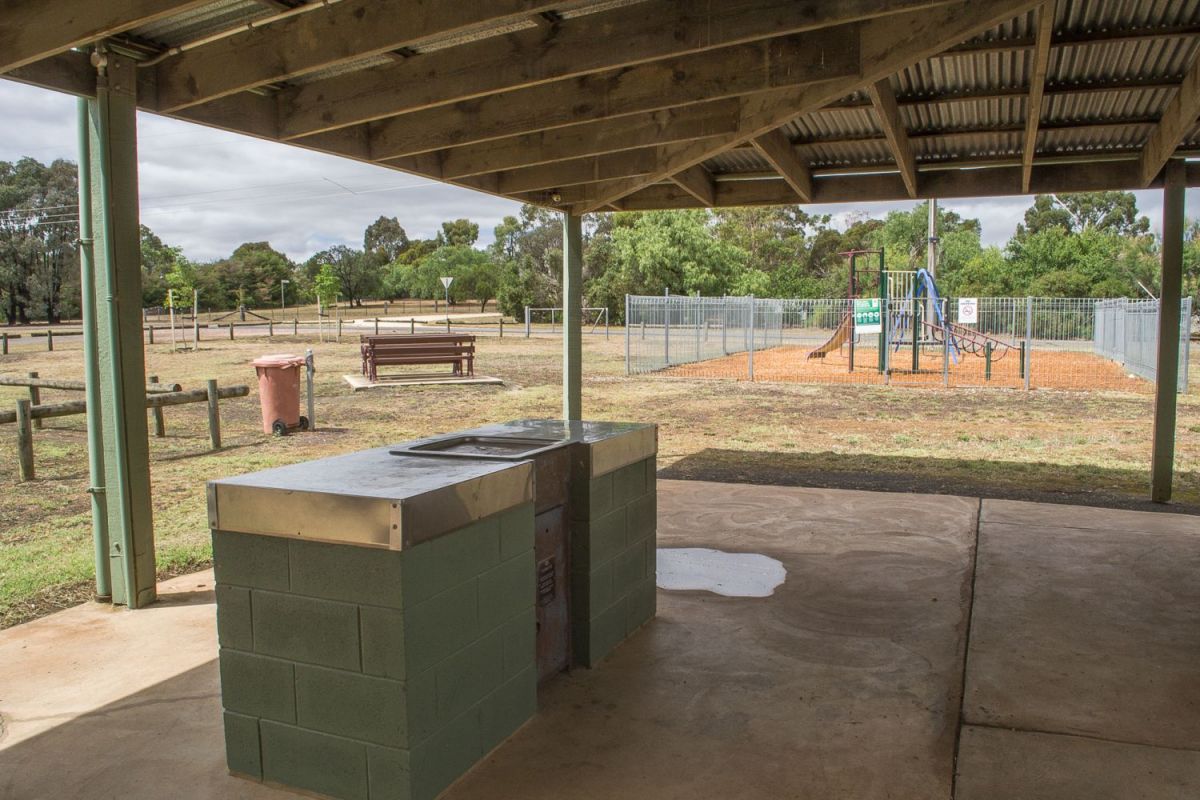 Rubbish bins and toilets are also present for visitor convenience.
An information sign out the front of the hall displays the following text:
WALKS FROM HERE
Old Majorca Store

100 m, 1 min walk

Majorca Historical Reserve

200 m, 2 min walk

Majorca Cemetery

2 km, 20 min walk
MAJORCA
Majorca drew thousands of gold-seekers to rushes in 1863 just as diggings around nearby towns declined.
Their first surface diggings soon gave way to complex networks of deep mine shafts, with a mass local workforce and capital investment from around the globe.
The rich field of Majorca sustained its own local council that met in the town hall.

Amongst mining investors in Majorca was Lowe Kong Meng, born in Penang in 1853.
Kong Meng imported Chinese foods to his Little Bourke St store before investing in the sugar trade and in mining. His mines at Majorca and Carisbrook helped keep the towns alive for more than fifty years.
Around Majorca, remnants of the mining industry can still be seen in an 1860s standpipe, a whip from the 1930's and cyanide workings. Miners dug out the massive mounds of mine waste that even today shape local skylines.
As for Kong Meng, he emerged as leader to Victoria's Chinese residents. The Emperor of China proclaimed him "Mandarin of the Blue Button, Civil Order" for his efforts on behalf of the Chinese community.
PLACES OF INTEREST