Life for children on the goldfields during the 1850's gold rush was rife with danger and illness - the
Pennyweight Flat Children's Cemetery
in Castlemaine is a heartbreaking testament to the fact.
An attentive stroll through any large gold rush cemetery will reveal many graves of children who tragically met early ends on the goldfields due to injury or illness.
The diggings were often a perilous landscape for children, as shown in this brief 1854 article regarding an inquest into the death of a two year old child, published in The Ballarat Times:
Inquest - An inquest was held this afternoon, 3rd Nov., at the Prince Regent's Gully, by Dr Clendinning, the coroner, on the body of a female child age 2 and a half years, who had been drowned by falling into a water hole.


After a careful examination of many witnesses, including the mother of the child and several neighbors, the jury returned a verdict of Accidental death, with a caution to parents to be particularly careful, not to let young children run so indiscriminately and unguardedly about the holes. (Source: The Ballarat Times, 1854, State Library of Victoria)


Some insight is gained into one child's adventurous experience of the goldfields in 1855, with the letter that 12 year old Lucy Hannah Burchall wrote to her grandmother regarding her family's journey by dray from Melbourne to the Bendigo goldfields.
"Since I last wrote we have performed a journey of one hundred miles a full account of which is in the journal that accompany's this. I like the diggings very well I have washed myself about a pennyweight of gold besides a match box full of specimens The other day I went with Mamma and Papa over to the quarry reef."




"A more miserable walk we never had; it was quite dark the rain was falling fast and we were up to our knees in mud. Mama carried baby and although so wretched wet and miserable felt that if she stopped to give her to Miss McAllister she should faint. Harrie was coming along with Papa behind she was very good talking merrily and laughing every time she was in a deeper puddle than usual."




"Here we are in Sailors Gully! We started this morning about nine and two hours afterwards entered Bendigo. I dont know what to think of the digging's for Bendigo the streets have diggings on one side and shops on the other."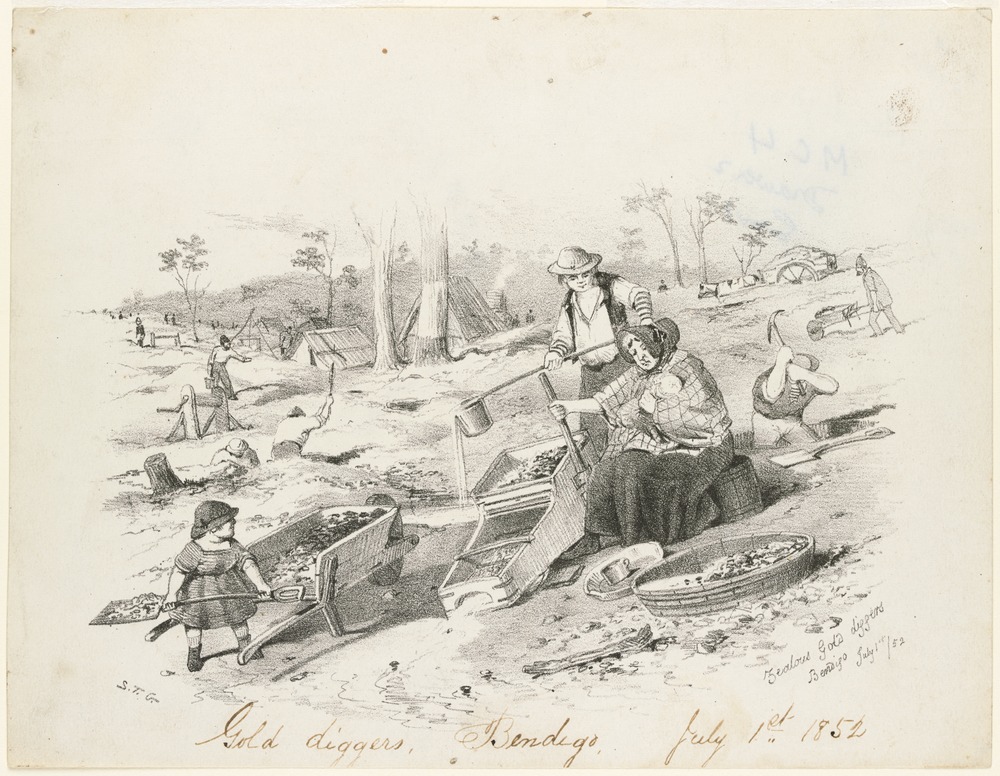 A small child working at the diggings with her family. Mother works while holding her baby.
(Artist: S T Gill, 1852, State Library Victoria)
.
She describes an orphaned girl they met along their travels to the diggings:
"Father, mother, grandfather, and herself had all come to the diggings the summer before. Her father met with a severe accident in digging, and returned to Melbourne. He returned only to die, and his wife soon followed him to the grave. Having no other friend or relative in the colonies, the child had been left with her aged grandfather, who appeared as infatuated with the gold-fields as a more hale and younger man. His strength and health were rapidly failing, yet he still dug on. "We shall be rich, and Jessie a fine lady before I die," was ever his promise to her, and that at times when they were almost wanting food.




"It was with no idle curiosity that we listened to her; none could help feeling deeply interested in the energetic, unselfish, orphan girl. She was not beautiful, nor was she fair - she had none of those childish graces which usually attract so much attention to children of her age; her eyes were heavy and bloodshot (with work, weeping, cold, and hunger) except when she spoke of her sick grandfather, and then they disclosed a world of tenderness; her hair hung matted round her head; her cheek was wan and sallow; her dress was ill-made and threadbare; yet even thus, few that had once looked at her but would wish to look again. There was an indescribable sweetness about the mouth; the voice was low and musical; the well-shaped head was firmly set upon her shoulders; a fine open forehead surmounted those drooping eyes; there was almost a dash of independence; a "little woman" manner about her that made one imperceptibly forget how young she was in years."
Upon her return to Melbourne, she noted:
Outwardly it seemed a city of gold, yet hundreds were half perishing for want of food, with no place of shelter beneath which to lay their heads. Many families of freshly arrived emigrants - wife, children, and all - slept out in the open air; infants were born upon the wharves with no helping hand near to support the wretched mother in her misery.
While out walking, Clacy encountered a little girl who had come to get water from a stream beside the road. She struck a conversation with her:
"'And have you been long here? and do you like this new country?' I continued, determined to hear if her voice was as pleasing as her countenance. 'No!' she answered quickly; 'we starve here. There was plenty of food when we were in England;' and then her childish reserve giving way, she spoke more fully of her troubles, and a sad though a common tale it was."



Of course, not all children met with such tragic circumstances. On her return journey to England, Clacy encountered a family who had done very well for themselves on the diggings:



"One family on board interested me very much. It consisted of father, mother, and two children. The eldest, a little girl, had been born some time before they left England. Her brother was a sturdy fellow of two years old, born in the colonies soon after their arrival. He could just toddle about the deck, where he was everlastingly looking for "dold," and "nuddets." The whole family had been at the diggings for nine months, and were returning with something more than £2,000 worth of gold."



You can read Ellen Clacy's book in full
here
.
Children living in the Victorian Goldfields today
Children gold panning at Dead Dog Gully Alluvial Gold Workings, source: Bendigo Advertiser. Read more...
Children living in the Victorian Goldfields today must remain cautious of the region's unique landscape - unexpected open mine shafts and collapsing ground are a common hazard throughout the local bushland.
However, this part of the world is definitely a fascinating, educational and fun place for children to explore!
The landscape of the goldfields has literally been shaped by its rich history, and tells a story which spans the centuries.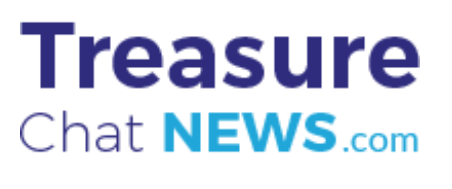 Treasure Chat NEWS is a 24/7 live News/Media outlet dedicated exclusively to treasure hunting in all its amazing forms. Regardless if your treasure is gold, coins, relics, rings, buckles, buttons, bottles or the countless other wonderous things we all chase on land and sea, this site is dedicated to you.
Click here to check out Treasure Chat NEWS!