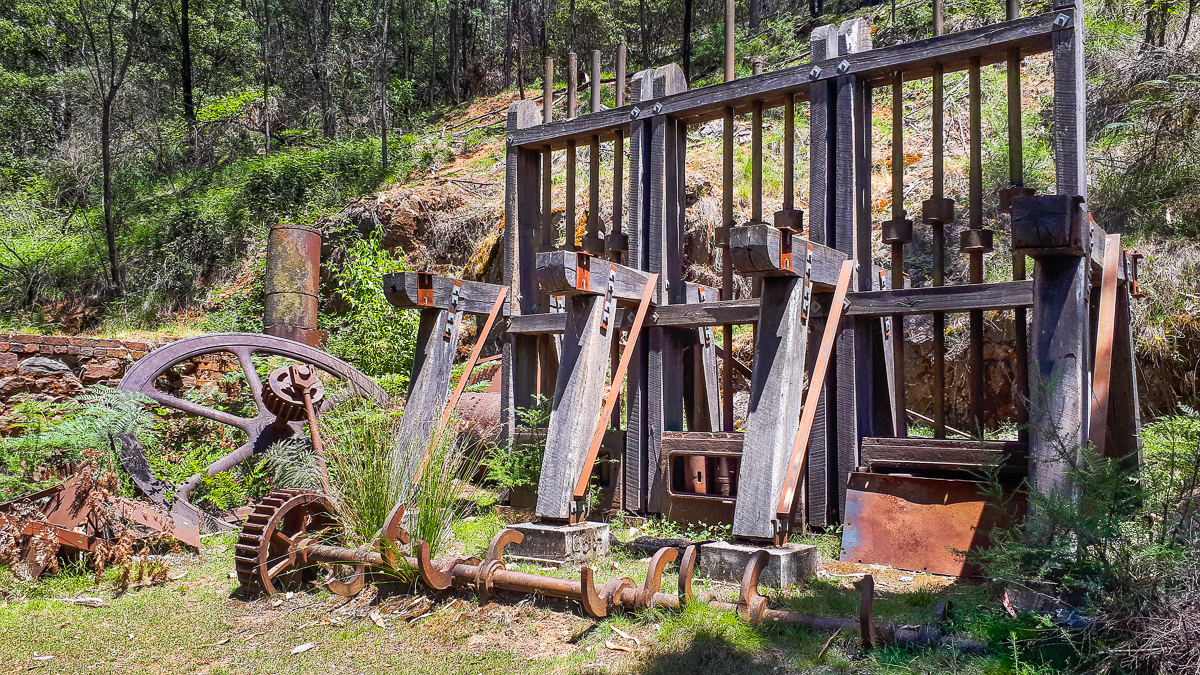 Now here is something you just don't see every day! This remarkable 12 head stamp battery sits abandoned on a beautiful hillside overlooking Nine Mile Creek, about 8km from Beechworth VIC. The battery was built in 1912 to replace an older one which was destroyed by bushfire, and was more recently restored by Parks VIC after a 2003 bushfire.
Stamp batteries are simple machines which crush rock so that gold can be extracted, widely used during the late nineteenth and early twentieth centuries before being replaced by more efficient crushing methods.
Although stamp batteries were once commonplace throughout the goldfields, almost all old battery sites left unattended throughout the Victorian bushland have sadly been reduced to little more than foundations or rubble, with barely any actual machinery remaining. Victoria has just six well preserved government gold batteries (located in
Creswick
,
Maldon
, Wedderburn, Rutherglen, Bright and Egerton), a few more have been put on display (such as
this one in Blackwood
), but there are only a small handful left in reasonable condition out in the bush.
The Wallaby Mine Gold Battery site is a rare surviving example of its kind. It is amazing how much machinery has remained here over the years without being scavenged. Other significant remaining objects include a horizontal steam engine, stone boiler setting, various buried and partly buried pieces of machinery, waterwheel pit and its machinery components.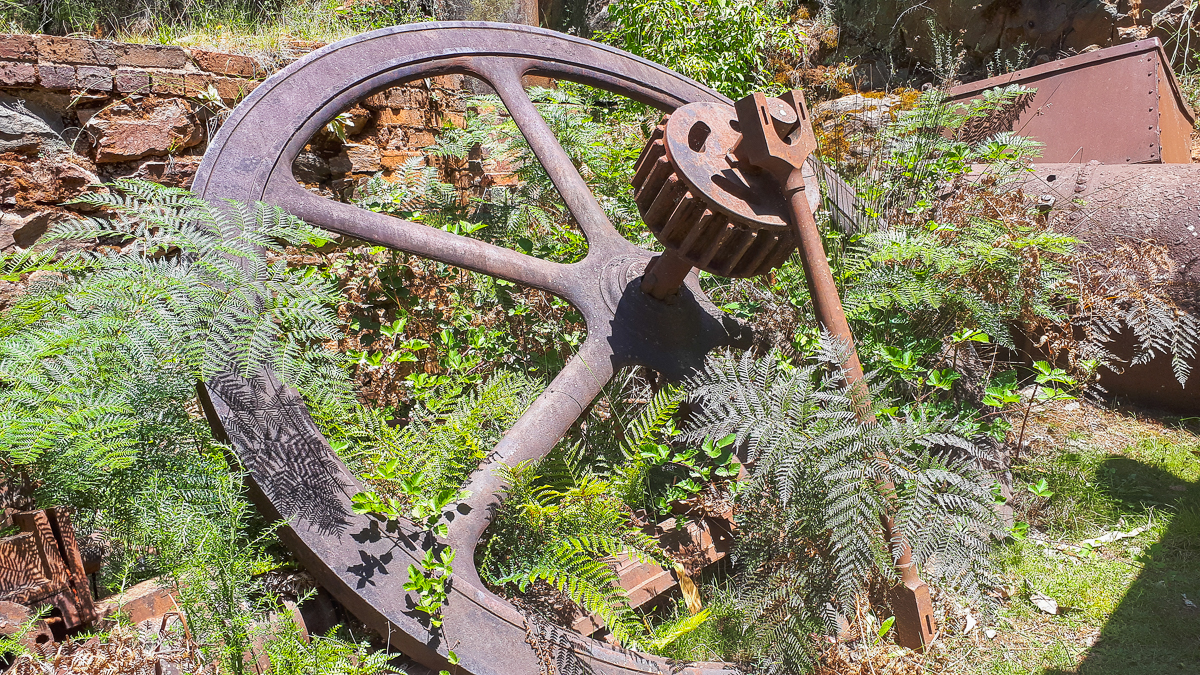 The Wallaby Mine itself is located up the hill from the battery and consists of a large glory hole, mullock heap and multiple shafts. Ore for crushing was brought to the battery through a tunnel up behind the battery site.
Access to the Wallaby Mine Stamp Battery is via an unsigned walking track from Wallaby Mine Track, Stanley VIC. Although there are no signs, it is easy enough to find as the walking track has posts installed to prevent vehicles driving through. When travelling down Wallaby Mine Track (from Lower Nine Mile Road), the walking track will be on your left. Wallaby Mine Track is steep in parts and best accessed by 4wd vehicles, especially in wet weather.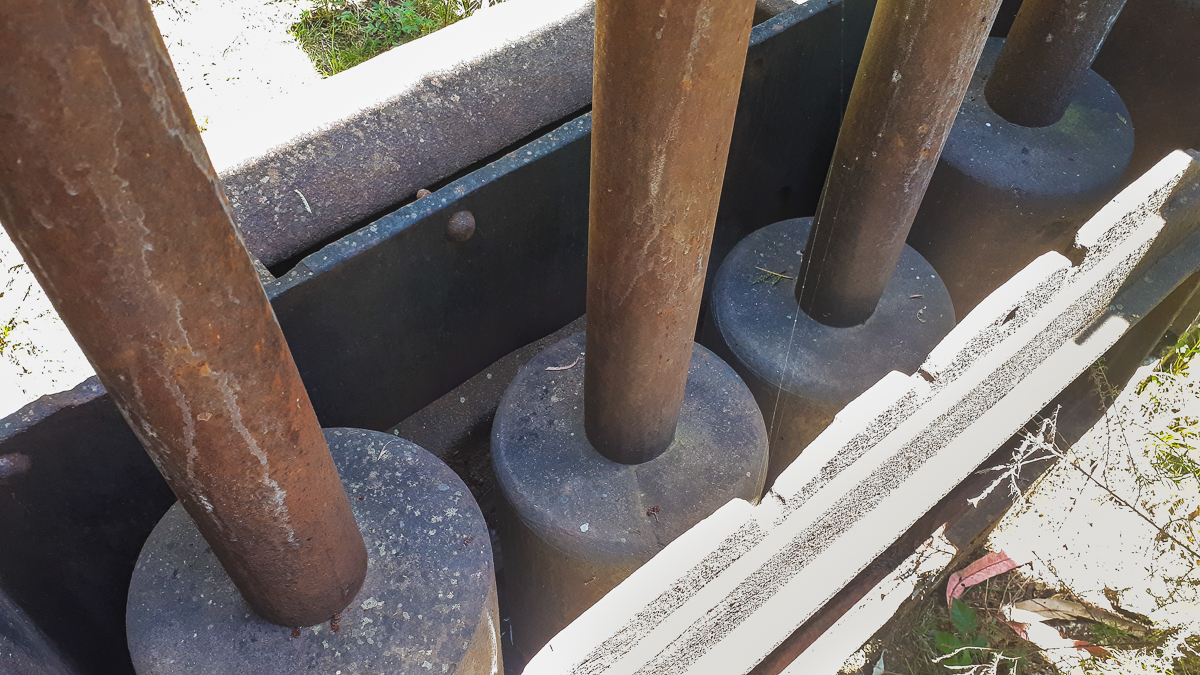 The walking track takes you on a fairly short downhill walk towards the stamp battery site. From the battery you can either return the way you came or continue along the track above the battery to head across to a different section of Wallaby Mine Track. This alternate section of the walking track takes you past many impressive open mine shafts and tunnels as it heads back to the road - be very careful where you step.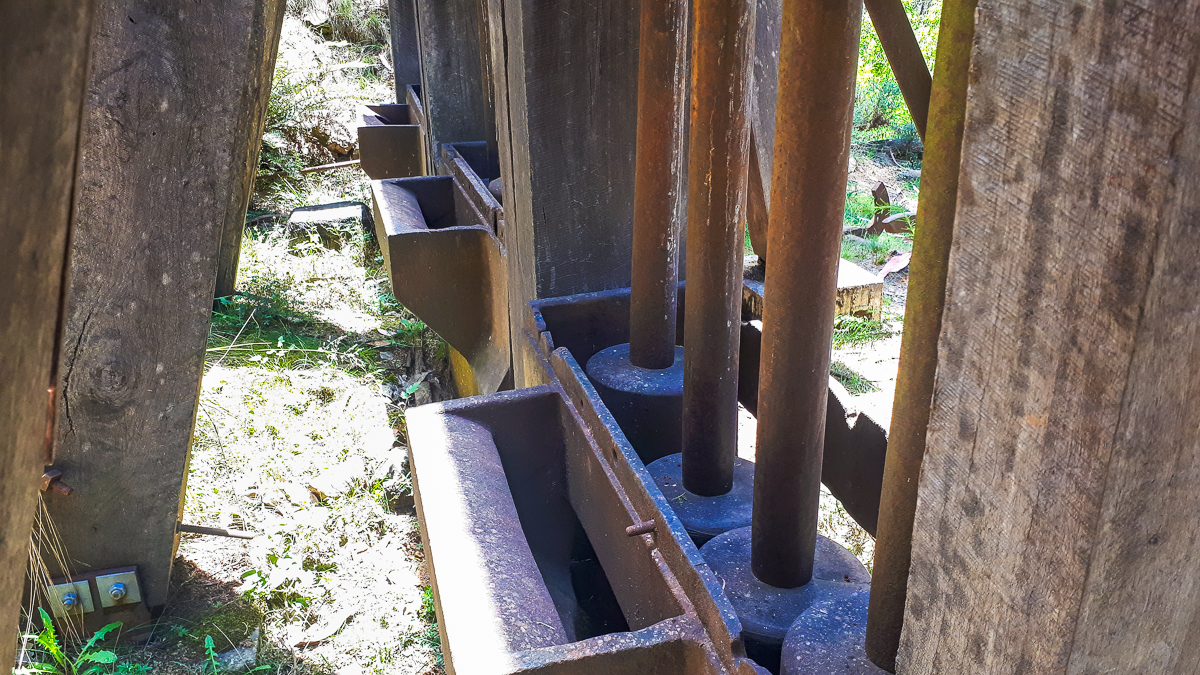 VHD Statement of Significance
Last updated on - May 11, 1999
What is significant?
The Wallaby Mine Gold Battery Site consists of the remains of a 12-head stamping battery, horizontal steam engine, stone boiler setting, and various buried and partly buried piece of machinery. Nearby are some relics of a water-powered battery (waterwheel pit and machinery components). The mine is located above the battery and consists of a large glory hole (open stope) and mullock heap. Ore for crushing was brought to the battery through a tunnel.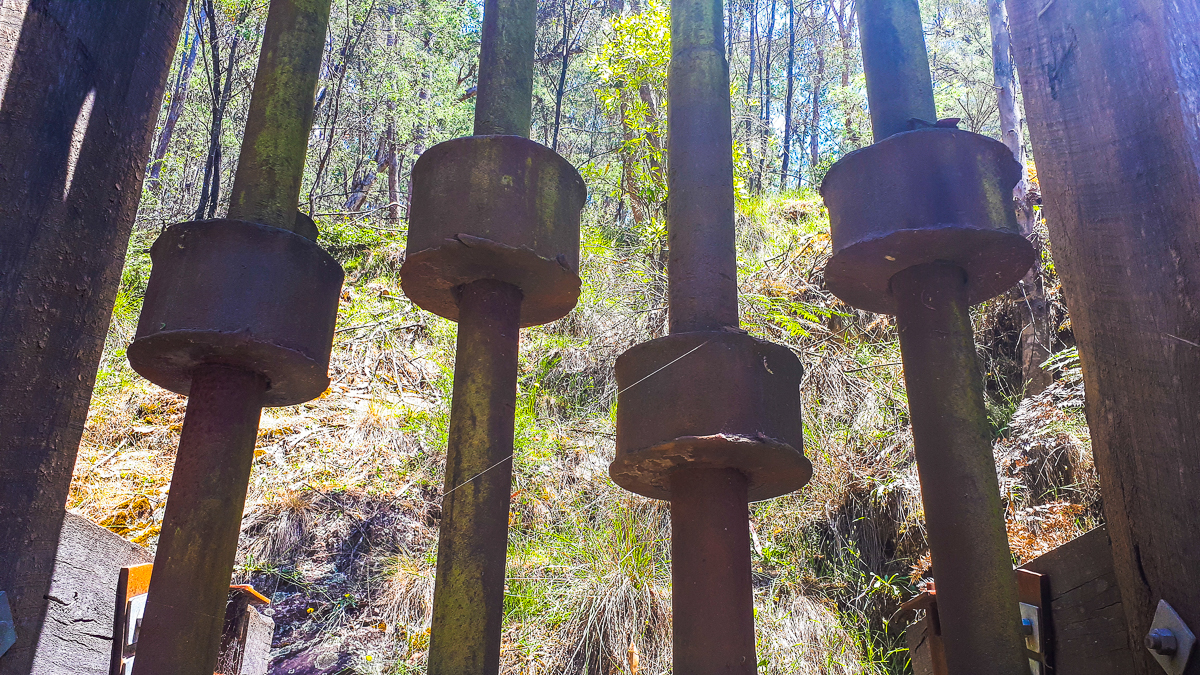 How is it significant?
The Wallaby Mine Gold Battery Site is of historical, and scientific importance to the State of Victoria and has already been placed on the Register of the National Estate.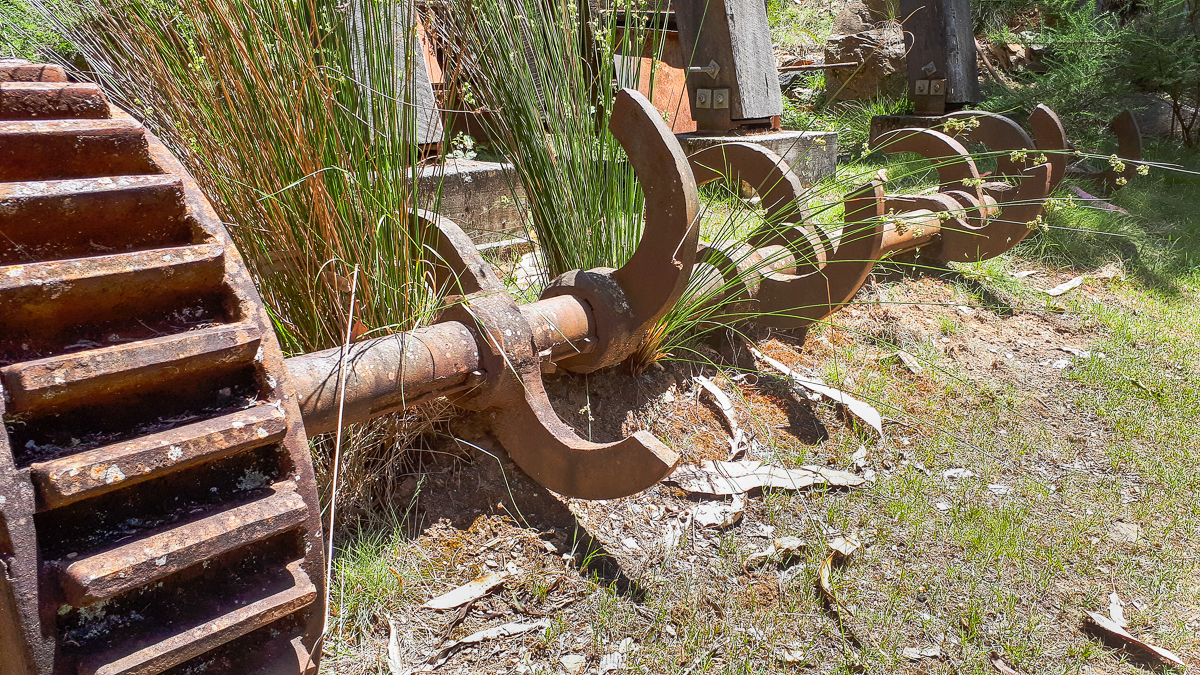 Why is it significant?
The Wallaby Mine Gold Battery Site is historically and scientifically important as a characteristic and well preserved example of an important form of gold mining. Although being very close to Beechworth, the abandoned machinery has not been significantly scavenged. The 12-head battery was installed in 1912 to replace an old battery which has been damaged by a bushfire. Gold mining sites are of crucial importance for the pivotal role they have played since 1851 in the development of Victoria. As well as being a significant producer of Victoria's nineteenth century wealth, with its intensive use of machinery, played an important role in the development of Victorian manufacturing industry. The abandoned mining machinery at the Wallaby Mine site is historically important for its evocation of the adventurousness, hardship, and isolation that was part of mining life in the high country areas of the State. The Wallaby Mine Gold Battery Site is archaeologically important for its potential to yield artefacts and evidence which will be able to provide significant information about the technological history of gold mining.
ALSO OF INTEREST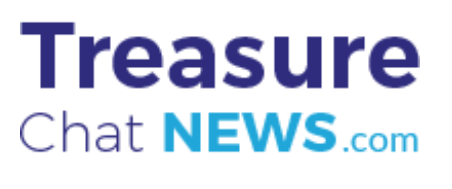 Treasure Chat NEWS is a 24/7 live News/Media outlet dedicated exclusively to treasure hunting in all its amazing forms. Regardless if your treasure is gold, coins, relics, rings, buckles, buttons, bottles or the countless other wonderous things we all chase on land and sea, this site is dedicated to you.
Click here to check out Treasure Chat NEWS!