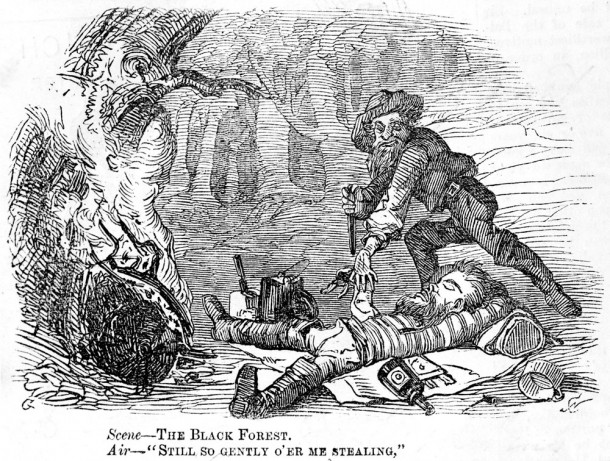 An 1855 cartoon of a bushranger robbing a traveller. Courtesy State Library of Victoria, ID MP00/00/56/21.
Francis Melville (1822-1857), bushranger, was born probably Francis McNeiss McNiel McCallum in Inverness, Scotland.
He had some schooling but about 12 became a thief.
In the Perth Court of Justiciary he admitted to serving four sentences totalling twenty-two months before 3 October 1836 when at 15 he was sentenced to seven years' transportation for housebreaking.
As Edward Melville (Mulvell) he served for twenty months in English gaols and was then sent to Hobart Town in the Minerva.
He arrived on 29 September 1838 and in October was placed at Port Arthur in the Point Puer institution for juvenile convicts.
In 1839-48 he came before the police magistrate twenty-five times. In 1841 his sentence was extended by two years for felony in February and to life for burglary in July; in September he was sent to Port Arthur for five years.
Recommended in 1846 for a year's probation, he absconded and lived with the Aboriginals for a year.
After recapture he was given nine months' hard labour in chains, an experience repeated in January and August 1850.
Calling himself Captain Francis Melville and posing as a gentleman, he reached Victoria about October 1851 and by December had turned bushranger.
He claimed leadership of the Mount Macedon gang that waylaid travellers in the Black Forest.
In 1852 he held up Alfred Joyce at Norwood station and watched for travellers along the western track from the central goldfields across the Wimmera.
(source: http://adb.anu.edu.au/biography/melville-francis-4183)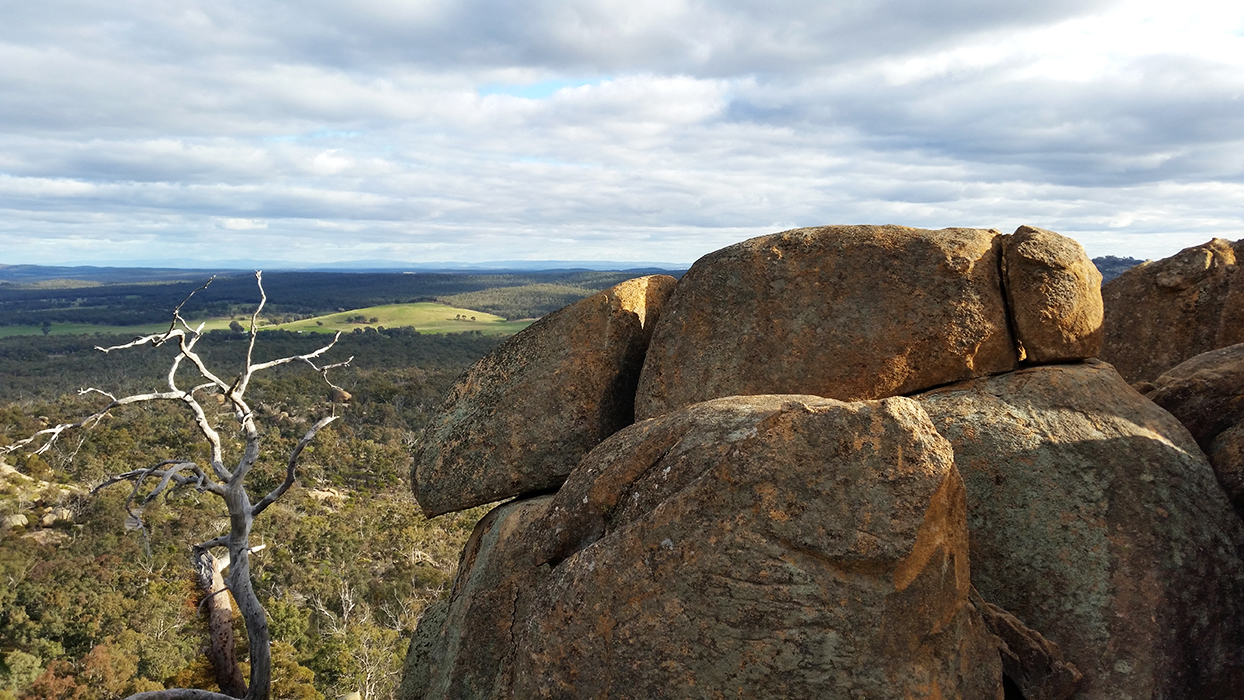 Melville Caves, supposedly used by notorious bushranger Captain Melville as a hiding place as he preyed on the gold convoys of the mid 1800s.
The following article regarding Captain Melville and the incident with Alfred Joyce was printed in The Argus, Melbourne VIC on 28 Nov 1942. (Source)
CAPTAIN MELVILLE WAS A BUSHRANGER OF ENTERPRISE

He Used Other People's Horses, and Indulged in Romance to Escape from Prison

In the Mallee scrub of northern Victoria, between the old mining towns of Inglewood and Rheola (once known as Berlin), lies Mount Kooyoora, before the war a popular local picnic ground, partly because of its scenic beauties, particularly in the spring, and partly because of its associations with one of the State's most picturesque and mysterious bushrangers. Captain Melville.

It is reputed that the caves formed on the rocky hillside were used by Melville as his headquarters when he preyed on the gold escorts of 90 years ago. Here nature provided amply for him. From the top of "Melville's Caves," "Melville's Lookout," a grand and, for the bushranger, very useful view of the surrounding countryside is obtained. And just above again are the rocks which formed his "stables."

The district was once one of the richest goldfields in Australia. On the property beneath the "Lookout" the "Precious Nugget" was found, weighing 1,717 ounces, and valued then at £8,686. Nearby, another, the "Kom Tow" brought its finder nearly. £3,000. And the world famous "Welcome Nugget" was discovered some 10 miles away at Mount Moliagul (edit - it was the "Welcome Stranger" which was found at Moliagul, the "Welcome Nugget" was found at Ballarat). The first newspaper reference to the suggested presence of gold In Victoria was made in 1847: the first discovery was announced in 1849. Our first record of Melville is in 1852, in the pastorallst Alfred Joyce's reminiscences, "A Homestead History," published this year. He speaks of Melville as "just then beginning his marauding career."

JOYCE was at his homestead near Maryborough, some 50 or 60 miles from Mount Kooyoora, when a horseman rode up inquiring for stray horses. When he approached close to Joyce he produced a double-barrelled gun. It was Melville. The police were after him, and he needed a fresh horse. Joyce was alone at the time, and he later discovered that one of his own outstation shepherds had acquainted Melville with this fact. Melville chose Joyce's best riding hack, and from the house articles and goods and what money he could find. His taste ran to Joyce's best riding clothes and equipment. When Joyce begged to be allowed to keep his gold watch because of its sentimental association Melville gave the matter some consideration, but was unable to resist the temptation.

As he left he warned Joyce not to go for the police that day. The nearest neighbour was 10 miles away, but he refused to leave his hut, and by the time the matter was in the hands of the police authorities at Castlemaine it was too late to attempt to follow up. A month or 2 later Joyce heard from a Ballan squatter that a horse had been left in his paddock by a stranger, who had stayed a night with him, and who had helped himself to one of his (the squatter's) horses. So Joyce eventually got his jaded hack back.

The next record of Melville is in "The Argus" of January 6, 1853, when it was announced that the Government Gazette of the previous day had given notice that a reward of £100 each would be paid "on the apprehension of 2 bushrangers who had been committing depredations in the neighbourhood of the Loddon River and Jim Crow Creek" (the Inglewood-Rheola area). One was addressed by his partner as "Doctor" or "Frank," the other as "Captain." The latter was described as being "short, rather stout, fair complexion, hair brown." On his hat, a cabbage tree, he wore a pair of goggles, and he had with him a Cossack cap of black fur, with a red top and tassel.

MELVILLE was evidently not caught in the northern country, as Joyce speaks of him as moving to Geelong district, where after a desperate resistance he was captured and gaoled.

In "The Argus" of February 1, 1853, is the story of an attempt at escape "by the celebrated Captain Melville and his associate Roberts." There is here a touch of light romance, as the scheme was detected by the discovery of "some amorous notes" written by Melville to "a fair but frail fellow-criminal," Rose Morris, an Irish orphan girl, who was under arrest for larceny.

The gaol was far too small, and a new one was being hurriedly completed. In the meantime the women of the gaol had "to take their airing" under the windows of the cell confining the bushrangers. Rose's part in the scheme consisted of picking up parcels containing tools, pistols, and ammunition, and handing them to the bushrangers during her daily airing. The plan, of course, came to nought on the confiscation of the love letters, but the paper mentions that Melville's literary efforts showed him as having had "an excellent education."

The same paper printed on February 9: "Government officials have been publicly and privately warned that strong reason exists for the suspicion that Melville was leader of the gang who murdered 2 men at Ovens, before proceeding on a robbery career to Maiden's Punt, the Loddon, the Leigh, and finally Geelong." Many people were strongly of the opinion that Melville ought to hang, in spite of the lack of conclusive proof that he had never killed a man, because he had several times fired on police officials with Intent to kill.

The last mention of Melville in the daily Press was on June 10, 1853. He was then undergoing a sentence of 20 years' imprisonment on board a hulk in Hobson's Bay. In a desperate attempt at escape he made a deadly but unsuccessful attack on a warder. "His violence was repaid with Interest, beside being put on bread and water."

Evidently even the dauntless spirit of Captain Melville was broken, for Joyce writes that he eventually committed suicide in the condemned cell of a Melbourne gaol.

Melvill's Cave. Mt. Kooyoora, formerly the haunt of the notorious bushranger Captain Melville, c 1860 - 1869.
Source: State Library of Victoria
Also of interest

Historic mines of the Goldfields
Waterfalls of the Goldfields
Accommodation nearby
There are several fantastic accommodation options located close to the stunning Melville Caves, hideout of bushranger Captain Melville. Spend some time exploring bushranger country and the rest of the world famous Golden Triangle.