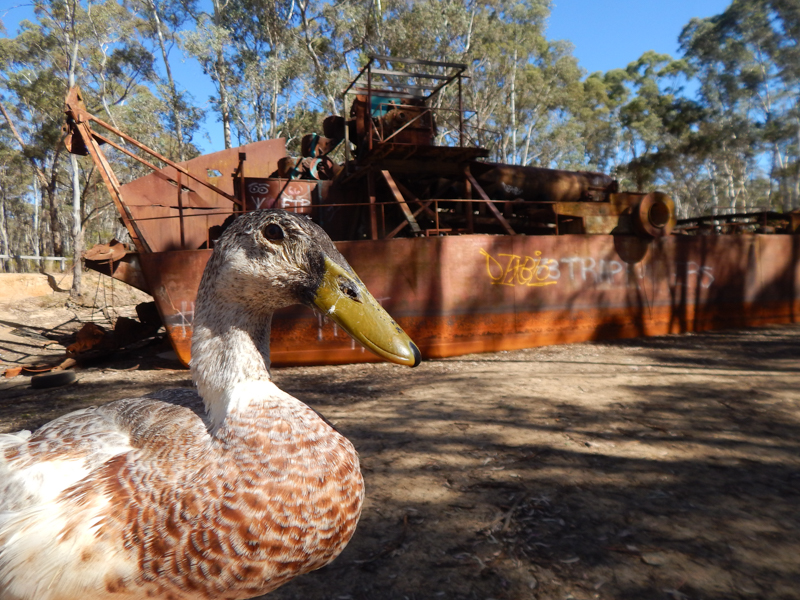 This is the heartwarming story of Tiddles, a three year old Indian Runner duck who spends his spare time adventuring through the Victorian Goldfields, despite the fact that he lives with a spinal defect and debilitating nerve damage.
Tiddles and his carer Alicia spend most weekends at their peaceful bush property in the Central Goldfields, and together they are living life to the fullest!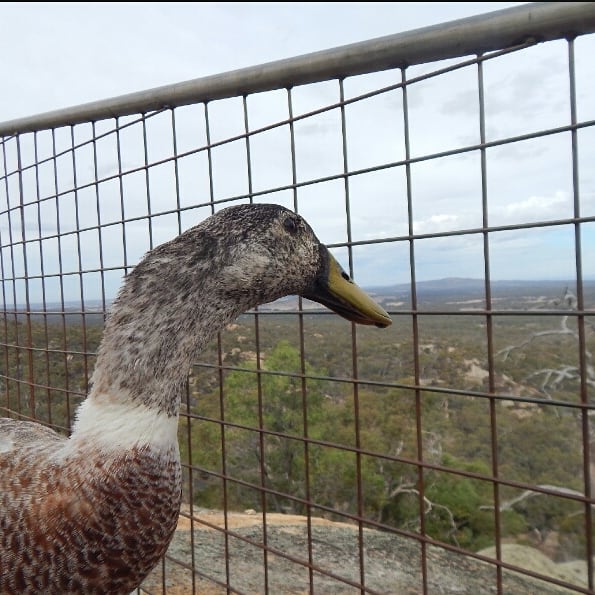 Tiddles looks down over the beautiful Kooyoora State Park from the lookout at Melville Caves
Not about to let his disability stop him, Tiddles has been on adventures to many beautiful places throughout the Victorian Goldfields including Melville Caves, Cairn Curran Reservoir, the Porcupine Flat Dredge and Dragline and more.
"He really is an amazing little duck and enjoys meeting people, and tourists around really get a kick out of meeting him too." - Alicia
Tiddles enjoys a wide range of activities, including gold prospecting, kayaking across Cairn Curran, bushwalking, and meeting local wildlife.
Source: Instagram tiddles_the_pteroduckdal "
I took Tidds into the goldfields to explore. I might get him a pet pusher. There are so many old mine sites to explore but its not safe for a derpy duck with dodgy legs."
When he's not adventuring through the goldfields Tiddles can be found exploring their bush block, supervising renovations, riding passenger in an off-road dune buggy, and reportedly stealing multiple vehicles!
Source: Instagram tiddles_the_pteroduckdal "What the duck !?! TIddles what do you think you are doing? Where do you think you are going? You cant drive a car!! Stop now! Bring back my ute- its too far for me to walk back to Melbourne."
Tiddles certainly lives a rich and exciting life, but he still faces challenges every day due to his condition. Tiddles hatched from an incubated egg on the 27th of February 2016. Although he had a normal, healthy start to life, it became apparent that something was not quite right when he was ten weeks old.
Tiddles when he hatched, happy and heathy
Alicia learned that Tiddles suffers from a small defect in the bone of his spine which damaged some nerves as he grew, impairing his ability to move, walk and swim properly.
Source:
Instagram
tiddles_the_pteroduckdal
" But look at how proud he looked getting past more of those shrubs without being attacked by them ! I'm super proud of this little guy and his determination."
Alicia does everything she can to make Tiddles' life comfortable, ensuring he is both safe and happy. Tiddles is unable to be left wandering alone as he may fall over and be unable to get back up, so Alicia has made him a special bed box which ensures he can always reach the sides to right himself if he tips over when he's by himself. Alicia needs to stay right by him when he swims, and he is quickly fatigued while walking around.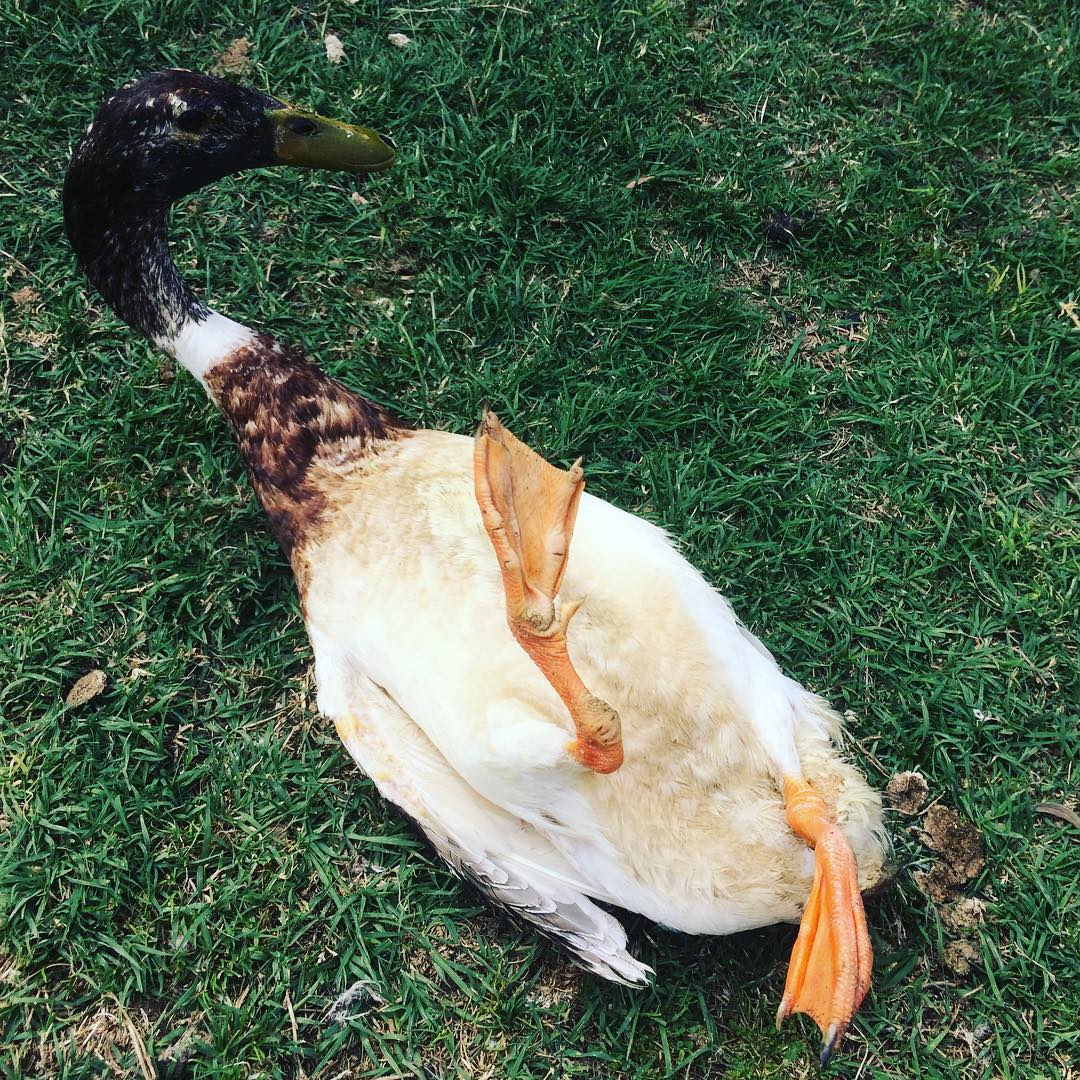 "Depending on the slope of the ground he is able to right himself fairly quickly- but I am never far away to put him right again when needed." - Alicia
Because of the limitations and restrictions he faces in his daily life, Alicia is determined to make sure he still gets plenty of exercise and visual stimulation by bringing him on all these amazing weekend adventures through the Victorian Goldfields. With the help of his push pram, a harness, and Alicia's unwavering support, Tiddles is overcoming his challenges and showing us that anything is possible!
Source: Instagram tiddles_the_pteroduckdal "Tidds had his first walk at the block without stumbling, falling or getting attacked by bushes. He still get tired quickly but stopping just gives us time to admire the beautiful scenery."
Tiddles' adventures are documented on his Instagram account,
tiddles_the_pteroduckdal
, which is filled with gorgeous photos, videos and updates about Tiddles and his incredible life. Alicia decided to start an instagram account for Tiddles after being asked so many times if he was on social media - people were amazed by him wanted to keep up to date with his travels.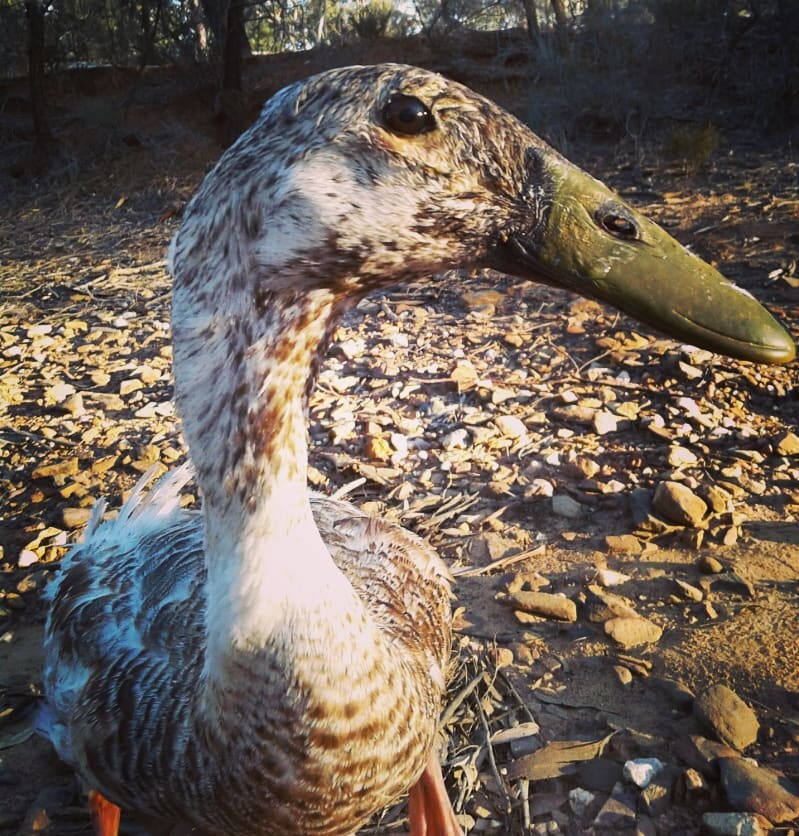 The account now has over 1,000 followers and Alicia receives messages from people all over the world saying that Tiddles is giving them hope and inspiring them to overcome challenges in their own lives.
"Knowing that Tidds has put smiles on faces all over the world is just such a great thing." - Alicia
"Perfectly imperfect or imperfectly perfect... beauty is in the eye of the beholder."
Alicia shares many beautiful sentiments about Tiddles, her love and devotion for her feathered friend is simply gorgeous.
Alicia and Tiddles, the inspirational duo
For Alicia, Tiddles is much more than a pet. Alicia is lucky to be alive after having a heart attack three years ago. As she was recovering, Tiddles began to show signs of his disability, giving Alicia a reason to stay strong. He brought hope and focus to her life in a time when she needed it the most.
"Tidds is my Knight in Shining Armour. He is also my derpy mate in ruffled feathers. To know why Tidds is just so special to me I need to move the spotlight for a moment. Three years ago today I had a heart attack. He has been my rock since then. As I recovered he started to show signs of his disability. I had something good in my life to focus on at a time I felt completely useless. He brought me hope and a reason to stay strong in my mind even when my body had failed me. I was very lucky not have died three years ago. But I am even luckier for the events that saw me with a lone duckling to raise. Tidds you are my world. I wake every day thankful to have another 24 hours on this earth and thankful that you are in it. To my derpy little mate... I love you more than you could ever understand." - Alicia
Tiddles checking himself out in the mirror.
"I wish he could understand me when I tell him he is 100% perfect inside and out." - Alicia
Tiddles and Alicia are a truly inspirational duo, not letting anything stop them from enjoying life!
It is an absolute joy to scroll through Tiddles' adventures on Instagram. Alicia's outlook on life, sense of humour, and the experiences she shares with Tiddles are uniquely inspirational. It is wonderful to see them out together exploring the natural and historical treasures of the Victorian Goldfields.
"He would just be home in the backyard if he could walk normally, so in some ways his disability has meant that he has a better life than my other ducks." - Alicia
Tiddles relaxing on the shore
Be sure to
follow them on Instagram
, and keep an eye out while you're exploring the Victorian Goldfields... you just may spot Tiddles along the way!