The Cairn Curran Reservoir is an enormous water catchment managed by Goulburn-Murray Water. The reservoir was constructed began in 1947 and was completed in 1956. There is a primary spillway and a secondary spillway located 2km south-west of the main structure that will spill before the embankment is overtopped. Cairn Curran Reservoir was constructed to supply water for irrigation, domestic and stock use to customers along the Loddon River.
Cairn Curran is a popular spot for a wide range of recreational activities, including:
Boating, both power and sail
Skiing
Wind surfing
Jet skiing
Canoeing
Fishing
Swimming
This section of the reservoir has fantastic picnic facilties:
Multiple excellent modern electric barbecues, free to operate
Barbecues are undercover
Multiple picnic tables around the barbecues
Many more picnic tables scattered throughout the adjacent grassy areas
Toilet block with multiple stalls and wheelchair accessible stall
Water taps and sinks outside toilet block
The road leading into the area winds down around to a large gravel parking area alongside the barbecue area, and also brings you down to a boat ramp (with lighting for night time).
There is a designated boat-free area for swimming alongside a grassy picnic area.
The road continues off to the left, following the edge of the reservoir for a while until reaching a second picnic area. This second picnic area offers picnic tables, boat ramp with lighting, and a toilet block.
The road between the two picnic areas makes a nice walk, and offers lovely views over the water as well as various rocks and trees for children to climb.
Fishing in Cairn Curran Reservoir
Fishing is one of the most important and popular activities at Cairn Curran. Late spring and early summer are the best times to find Golden Perch, Brown Trout, Murray Cod and Redfin in the Reservoir's deep water. Try using yabbies as bait on a running sinker to catch Redfin.
(source)
GOLDEN NUGGET DISCOVERY TOURS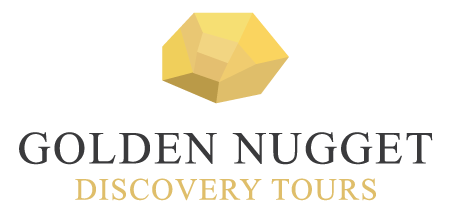 Experience the best Victoria has to offer with
Golden Nugget Discovery Tours
, a genuine Ecotourism Operator offering a wide range of nature, heritage and adventure tours throughout the many unique regions of Western and Central Victoria. Guided tours are available across the Goldfields, Daylesford & Spa Country, Pyrenees Wine Region, Grampians National Park, and Great Ocean Road!