Lake Eppalock is a fantastic local favourite for swimming, barbecues, fishing, boating, waterskiing and bushwalking, located just 25 minutes from Bendigo. Packed with plenty of swimming spots, picnic areas and boat ramps, this vast reservoir is the ideal destination for water based recreation and relaxation.
Pack a picnic lunch and enjoy the view over Moorabbee Bluff, load up the boat and head down to Kirrang Point boat ramp, or chuck some snags in the eski and cook up a barbecue at the Kimbolton Recreation Area... there are so many fantastic spots around the shore of Lake Eppalock, so we've put together this page to help you find the perfect destination for your next day out on the water.
Swimming at Lake Eppalock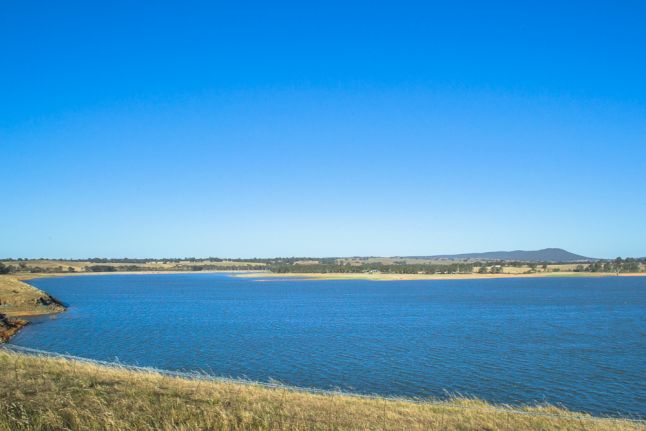 Looking out over a small section of Lake Eppalock
Swimming is one of the most popular recreational activities at Lake Eppalock, with plenty of fantastic spots around the reservoir to take a dip! With its vast stretches of beach-style entry to the water, you're sure to find the perfect place to set up for an afternoon of swimming.
Is it safe to swim at Lake Eppalock?
You can quickly and easily check if there is any current Blue-Green Algae warnings for Lake Eppalock over at the
Goulburn-Murray Water website
.
FISHING AT LAKE EPPALOCK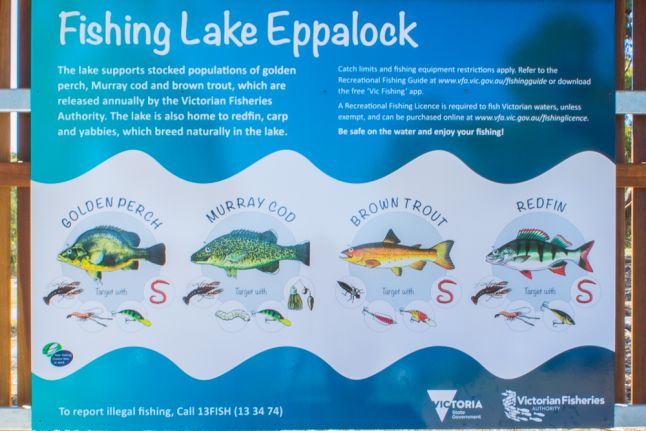 Fishing is a favourite activity at Lake Eppalock, and there are plenty of great places along the shore to set up your fishing rods. Lake Eppalock boasts a healthy supply of Golden Perch, Red Fin, Trout and Murray Cod. Red Fin is typically found in the Derrinal and Kimbolton pools (in the north sections of the lake) and Murray Cod and Golden Perch is typically found in the mouths of the Coliban and Campaspe Rivers.
(source)
Boat ramps at lake eppalock
Lake Eppalock is an extremely popular destination for boating and water sports. There are five public boat ramps located around Lake Eppalock, two of them also provide picnic/barbecue facilities.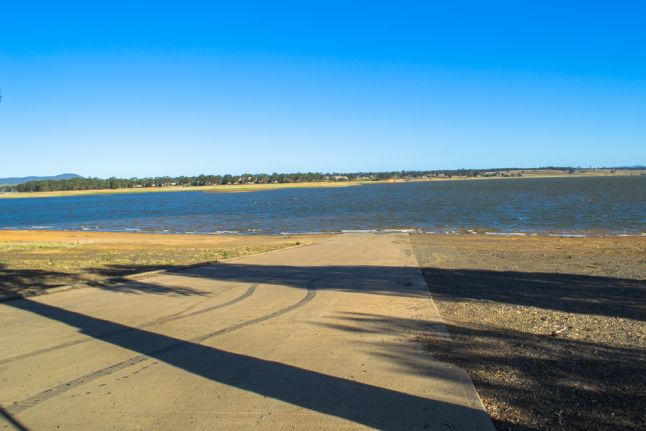 Barbecues at lake eppalock
There are plenty of great barbecue areas overlooking the water at Lake Eppalock.
basic picnic areas at lake eppalock
Picnic tables overlook the lake from the grassy hillside at
Moorabbee Bluff
, Lake Eppalock
As well as the barbecue areas listed above, there are a couple more spots with picnic tables overlooking the water which are great places to bring a picnic.
More nice spots along the shore of lake eppalock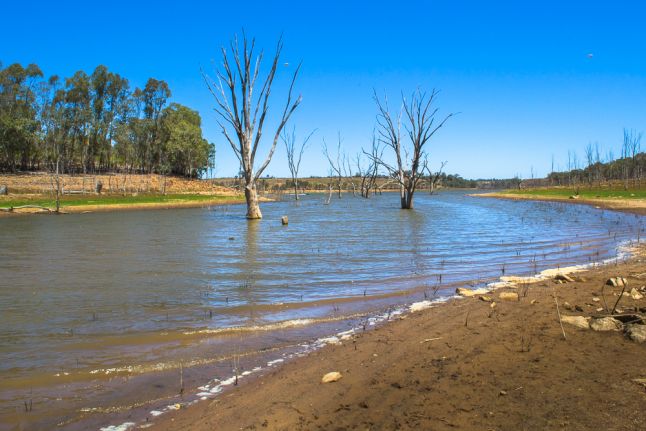 Beautiful scenery at Bo Bay, Lake Eppalock
There are plenty of other points where you can access the lake shore, and although these spots have no facilities they are great for fishing, swimming and picnic blankets. Some of these spots include:
other points of interest around lake eppalock
About lake eppalock
Multiple well presented signs at Lake Eppalock display the following text:
Lake Eppalock is in the heart of central Victoria's goldfields, just a 20 minute drive from Heathcote, 30 minutes from Bendigo and 90 minutes from Melbourne.
Built in 1964 to supply water for irrigation, the lake has become one of the most popular recreational inland waterways in Victoria and is an ideal location for waterskiing, fishing, boating and swimming.
Today the lake supplies irrigation, environmental and stock and domestic water to entitlement holders as far north as Echuca as well as providing urban supplies to Bendigo, Heathcote and other central Victorian towns.
The lake is home to many recreational clubs and 4 commercial caravan parks.
Lake Eppalock is one of 24 lakes, storages adn weirs managed by GMW to capture, store and deliver 70% of Victoria's stored water across a region about the same size as Tasmania.
Lake Eppalock is a beautiful natural resource. You can help care for the lake so it can be enjoyed now and into the future.
Campfires are prohibited in GMW recreational areas or foreshore and lakebed areas.
Electric barbecues are available at some recreational areas (see map).
Please refer to the local council for landfill services and consider the environment when disposing of your litter. Penalties apply for illegal dumping of rubbish.
Don't remove vegetation from the foreshore, or bring any in.
Don't interfere with animals or their habitats, and don't feed them.
Boat was can cause erosion, a 5 knot speed limit applies within 50 metres of the shoreline.
Vehicles and trail bikes are only allowed on public roads within the reserve. All vehicles must be registered and users must be licensed.
Keep the waterway healthy by not using soap, toothpaste or detergent in the lake.
Dogs and horses must be on a lead and/or under control at all times and aren't allowed in the lake. Please clean up after your pets.
Located on the Campaspe River, where the Taungurung and Dja Dja Wurrung people are the traditional owners of the land, Lake Eppalock was constructed between 1960-1964 by the State Rivers and Water Supply Commission of Victoria. The principal use of the dam is for the storage of water for irrigation in the Campaspe Irrigation District, river diversion along the Campaspe River, environmental releases to the Campaspe River and for urban supplies to the cities of Bendigo, Heathcote and Ballarat.
When full, the "V" shaped reservoir has a maximum depth of 36 m and holds 304,651 ML. The reservoir has an approximate length of 15km, with a surface area of 3,237 ha and a shoreline stretching 153 km. When the water levels are low, quite a spectacle is revealed from where the water usually exists. Ruins of old homesteads, a circular puddling machine used by Chinese miners during the gold rush era, numerous stone fences and several bridge ruins along the original Bendigo-Heathcote-Melbourne Road can be seen. It is a truly an area steeped in Victorian history. The Cliff Robinson Reserve also contains the remains of a development by the late George Murrawood including a hotel, general store and related businesses.
Lake Eppalock's curved main embankment is 704m long, stands 47m high and contains more than 800,000m3 of earth and rock. Lake Eppalock has three spillways with different crest levels. The combined design capacity of the three spillways is 349,900 ML/d.
WLECOME TO DJA DJA WURRUNG COUTRY
Womin-dji-ka Dja Dja Wurrung Djaa-ndak-i
The Dja Dja Wurrung have managed the land and waters of this area according to their laws and their intimate knowledge of this region's ecosystems.
Today, the land and its waterways remain central to Dja Dja Wurrung cultural identity and aspirations for community and economic development.
Goulburn-Murray Water acknowledges Dja Dja Wurrung living culture and their unique role in the life of this region.