The lonely grave of Thomas Whyte lies in the bush alongside Bernarra Street in Wedderburn. Whyte was a miner during the 1850s gold rush and his tent was located close to the grave site.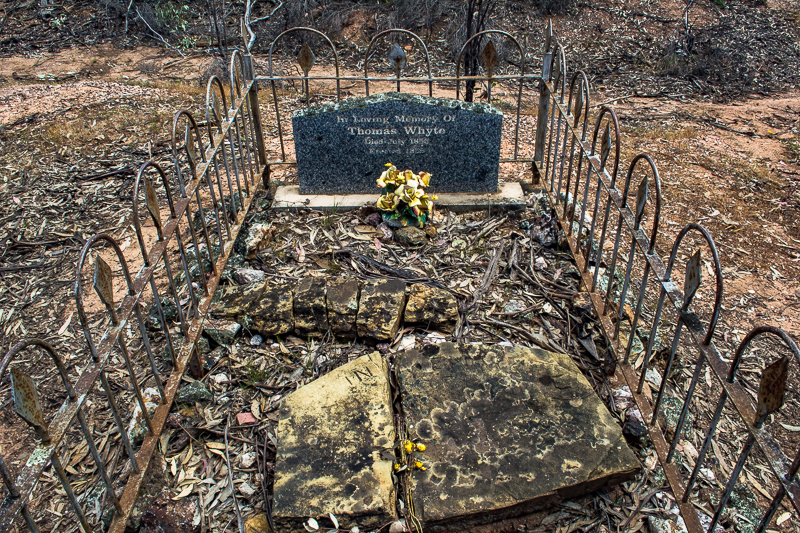 The fenced 1855 grave contains the broken remains of Whyte's headstone which has been replaced with a modern monument.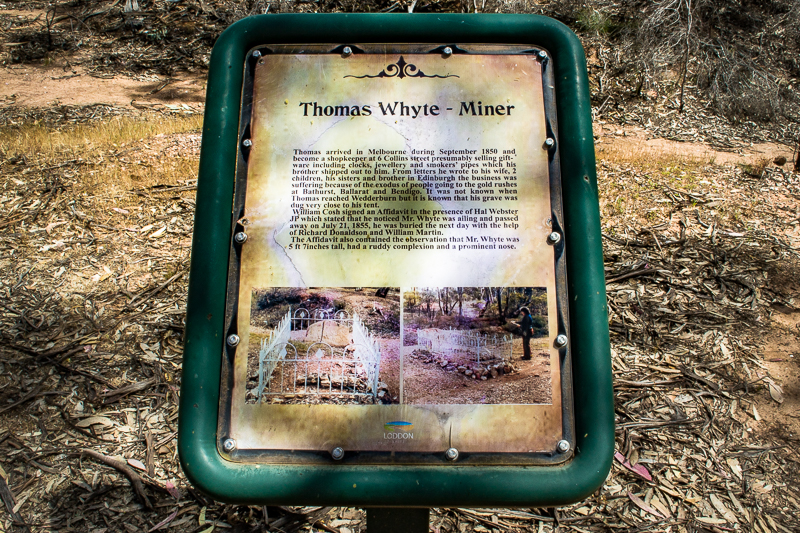 An information sign stands alongside the grave and displays the following text:
Thomas Whyte - Miner
Thomas arrived in Melbourne during September 1850 and become a shopkeeper at 6 Collins Street presumably selling gift-ware including clocks, jewellery and smokers' pipes which is brother shipped out to him.
From letters he wrote to his wife, 2 children, his sisters and brother in Edinburgh the business was suffering because of the exodus of people going to the gold rushes at Bathurst, Ballarat and Bendigo.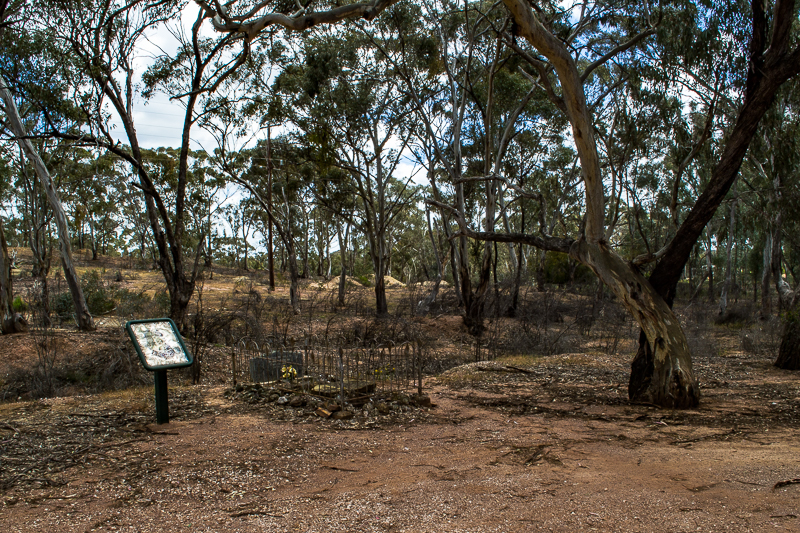 It was not known when Thomas reached Wedderburn but it is known that his grave was dug very close to his tent.

William Cosh signed an Affidavit in the presence of Hal Webster JP which stated that he noticed Mr. Whyte was ailing and passed away on July 21, 1855, he was buried the next day with the help of Richard Donaldson and William Martin.

The Affidavit also contained the observation that Mr. Whyte was 5 ft 7 inches tall, had a ruddy complexion and a prominent nose.
More to explore nearby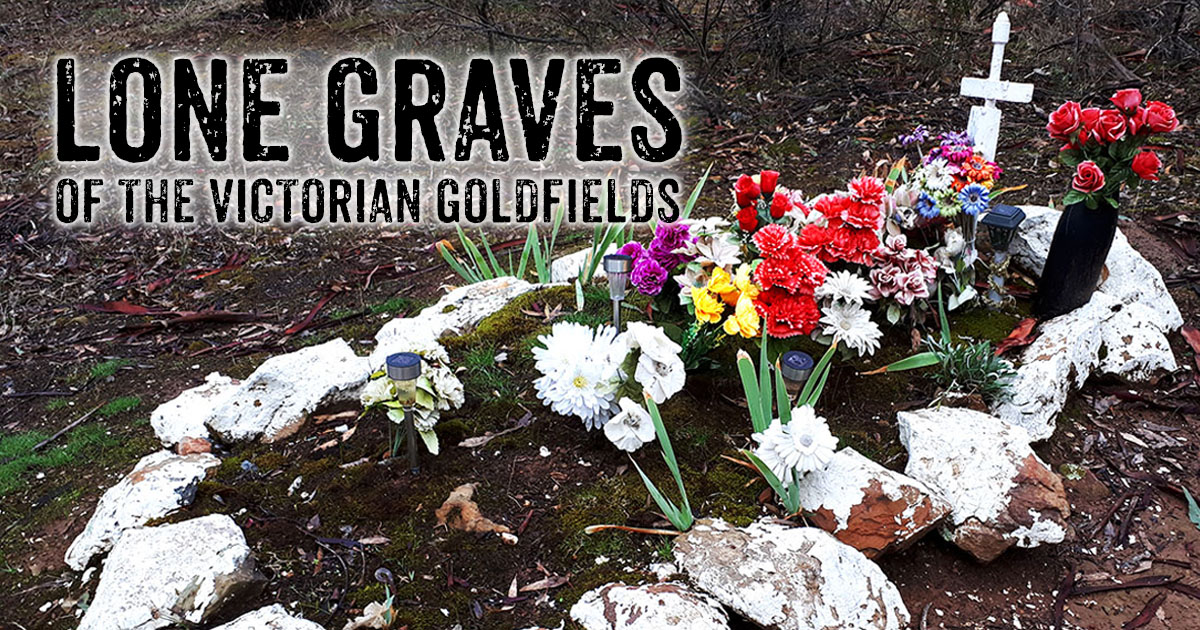 Lone graves are a fascinating feature of the Victorian Goldfields, and along with the region's historical cemeteries they provide an interesting glimpse into the past.
Some lone graves exist because the burial predated the establishment of a local cemetery, others are left behind after cemetery relocation, others simply lie outside the boundary of nearby cemeteries.
ACCOMMODATION NEARBY


Inglewood Motel and Caravan Park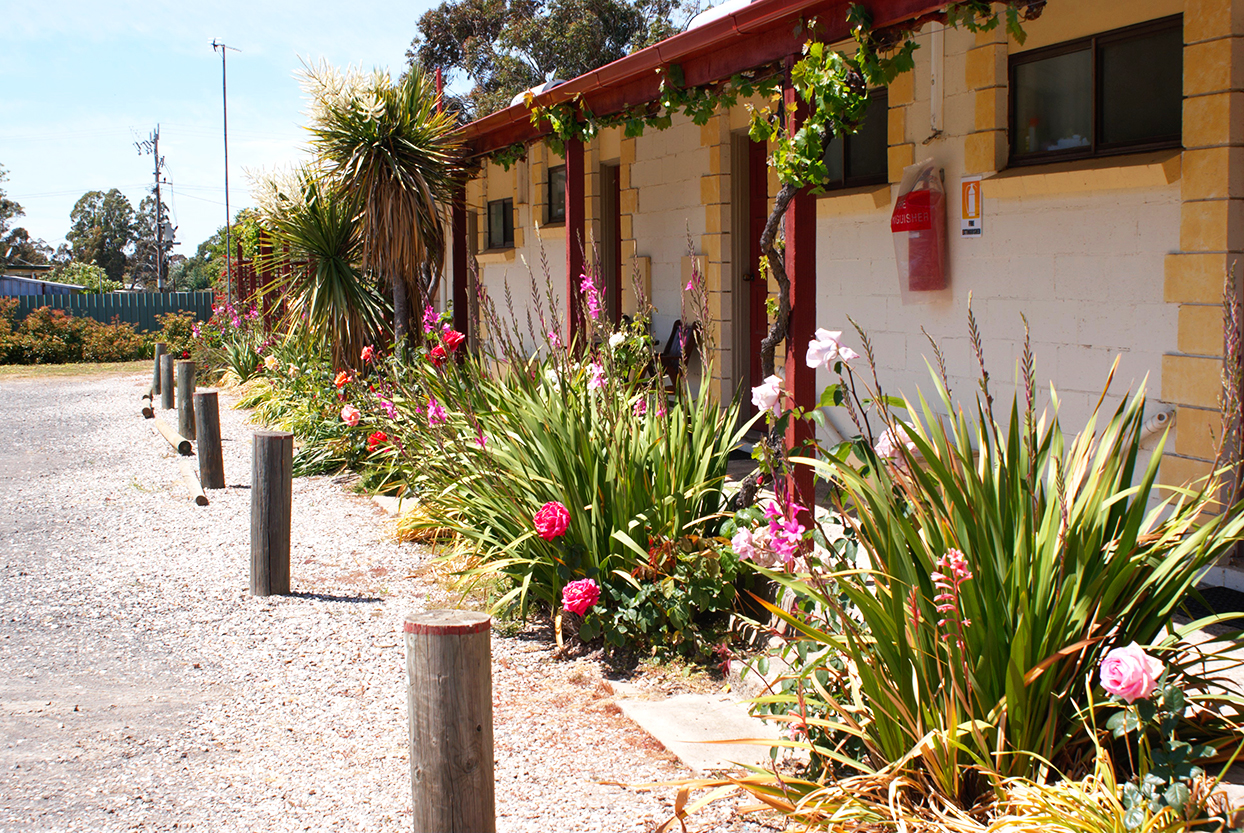 Inglewood Motel and Caravan Park
is a 10 acre bush park privately owned and managed by Jerry and Pauline Wellman in the gorgeous gold-rush town of Inglewood, Victoria. The park is within walking distance to cafes, shops and hotel entertainment, and is surrounded by State Forests. Inglewood Motel and Caravan Park is a popular destination for tourists and is located within the renowned Golden Triangle - a region of the Victorian Goldfields which is world famous for the size, purity, and quantity of gold nuggets found in the area.
Wedderburn Goldseeker Motel
Wedderburn Goldseeker Motel
offers classic country hospitality in the heart of Wedderburn, providing the perfect base for visitors to explore the beautiful Loddon Valley, the region's significant historical goldfields, and the surrounding towns of Inglewood, Bridgewater and Boort. Located two and a half hours from Melbourne and one hour from Bendigo, Wedderburn Goldseeker Motel is the perfect destination for your next getaway.