Along with the 19th century gold rush came the inevitable establishment of many cemeteries throughout the Victorian Goldfields. A wander through a historic cemetery within the goldfields can be quite captivating and educational. Some cemeteries are still in use today, others have been long abandoned. Take a look through this list showing some of the most fascinating cemeteries of the Victorian Goldfields.
All cemeteries are macabre by nature, but this striking cemetery on the outskirts of Clunes has a particularly gruesome history.
10. Axedale Catholic Cemetery, Axedale VIC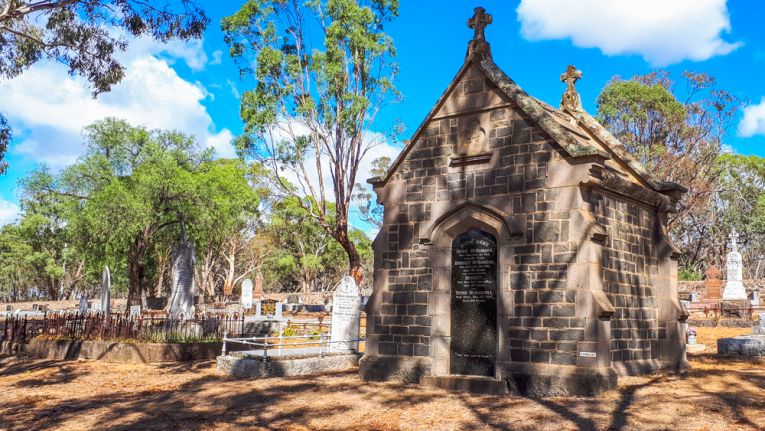 The hauntingly beautiful Axedale Catholic Cemetery is located right alongside the Axedale General Cemetery and is surrounded by charming stone walls. An impressive mausoleum stands proudly among the headstones.
Read more...
11. Hepburn Graves, Smeaton VIC
Take a walk across scenic fields to this picturesque family cemetery in Smeaton. Hepburn Graves is the historical private cemetery of the Hepburn family of Smeaton Hill Run. Located near the original homestead, Smeaton House, the cemetery has been excised from the surrounding private land and is now managed by the National Trust of Australia.
Read more...