Lone graves are a fascinating feature of the Victorian Goldfields, and along with the region's historical cemeteries they provide an interesting glimpse into the past. Some lone graves exist because the burial predated the establishment of a local cemetery, others are left behind after cemetery relocation, others simply lie outside the boundary of nearby cemeteries. The following list provides details about some of the Victorian Goldfields' intriguing lone graves.
Glengower Pioneers Memorial Grave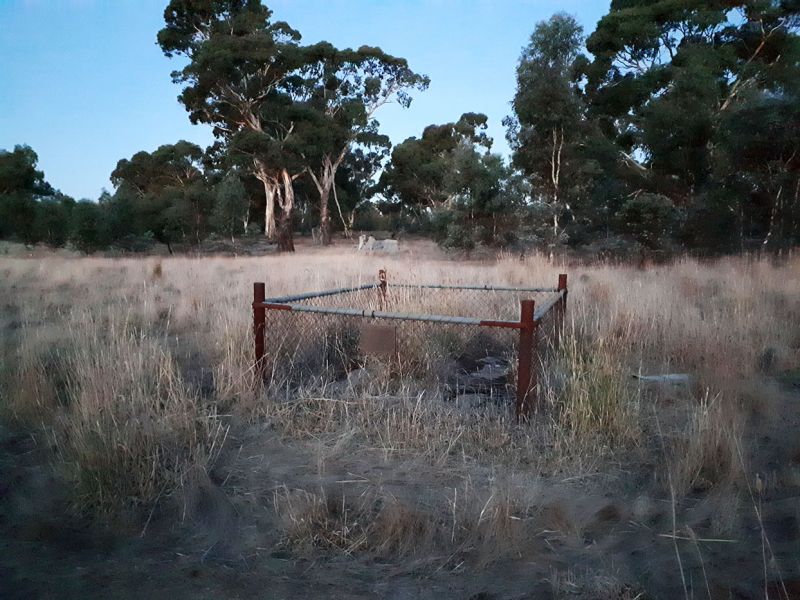 This pioneers' memorial grave is tucked away in a field alongside Strathlea Road, Campbelltown. The memorial was erected in 1949 to commemorate the burial site of three people associated with the Glengower station who died in the early 1840s. The first man buried at this site, a cook at Glengower station, was murdered - the story associated with his death is quite gruesome. The second man was savaged to death at Glengower station by dogs, and the third was an employee who died of natural causes. The memorial is on private property but can be viewed and appreciated from the roadside.
Read more...
Lone Grave at Lake Eppalock
The lone grave of Katherine Patterson and Mary Lumsden Patterson sits beneath a tree in a grassy field alongside Lake Eppalock, just down the road from the beautiful Moorabbee Bluff.
Read more...
Lone Grave of Mother and Child
The intriguing lone grave of a mother and her infant son is hidden away in a lane between Chapel Street South and Fountain Track in Maldon, Victoria. The headstone reads: "In memory of Elizabeth, wife of William Anset, of Brixton England. Died 19th July 1854, Aged 27. Also her infant son, aged 14 days".
Read more...
A lone unmarked grave, thought to be the resting place of the first child to die in this area in the 1850s, sits about 50 metres off Watersons Road just outside Maldon. This monument stands on the roadside south of the grave site and provides some details about the unfortunate child.
Read more...
The Lonely Graves of Waanyarra
Have you been out to Waanyarra to check out the
Historic Cemetery
,
Recreation Site
or
Morton's Welcome Inn
? If so, you may have noticed the series of mysterious graves scattered along the roadside. There is a local story that a prostitute died in the area in the mid 19th century and was denied burial within the cemetery by the Cemetery Trustees. One particular grave was thought by locals to be the resting place of the prostitute, and it has been restored over the years to its current state. Regardless of exactly who is buried in these scattered graves along Waanyarra Cemetery Road, they have been beautifully adorned with stones and flowers and are yet another remarkable feature of the fascinating Victorian Goldfields.
Read more...
Do you know of any other lone graves throughout the Victorian Goldfields? Let us know in the comments below.