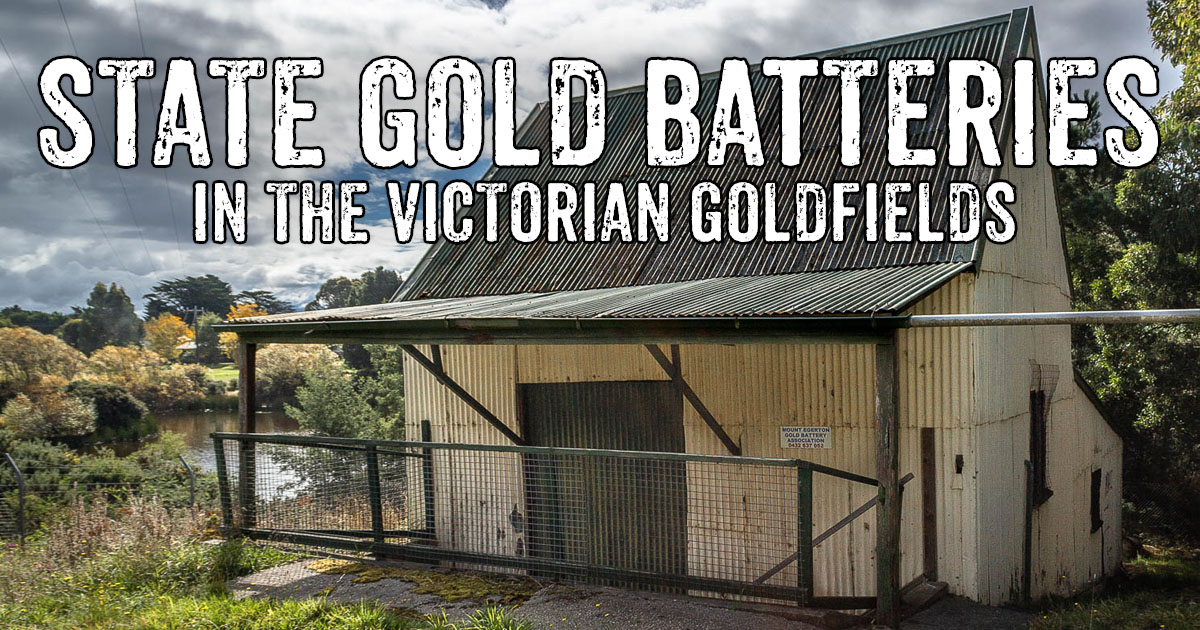 From the late 19th century, assistance was provided to gold miners by the Victorian Government through the installation and operation of small gold batteries. These were known as State or Government Batteries, and were installed in areas where there were no private batteries available for public use. During the 20th century there was a peak of over thirty Victorian state gold batteries in operation, however only six of them remain for us to see today.
What is a stamp battery?
Stamp battery at Sovereign Hill, Ballarat VIC
A stamp battery is a machine which crushes gold-bearing rock using a pounding action. A battery consists of a set of heavy stamps which are held vertically within a frame. The individual stamps are lifted by cams on a rotating horizontal shaft, then released as the cam rotates out from under them, causing the stamps to fall and crush the rock below. This is repeated continually to crush large amounts of gold-bearing rock. Stamp batteries were widely used during the late nineteenth and early twentieth centuries before being replaced by more efficient crushing methods.
Historic stamp batteries today
Battery on display, Blackwood VIC
Although stamp batteries were once commonplace on the goldfields, most of them were abandoned and dismantled long ago. There are still some around though, and you can check them out at a number of sites throughout the Victorian Goldfields. A small number of well preserved Victorian state batteries remain, some privately owned batteries still stand (such as the impressive 20 head battery at
Victoria Hill
in Bendigo), some disused batteries have been put on display (like the ones in
Heathcote
and
Blackwood
), some are used for demonstrations (such as at Sovereign Hill), and there are lots of abandoned incomplete battery sites throughout the bush of the Victorian Goldfields (not much usually remains of the battery, but sometimes boilers and foundations are still present).
State gold batteries in the Victorian Goldfields
Four of Victoria's remaining state gold batteries are located within the Victorian Goldfields region - at Wedderburn, Mount Egerton, Maldon, and Creswick. The remaining two are located up at Bright and Rutherglen. This page focuses on the four State Batteries in the Victorian Goldfields - read on to learn more about them.
Wedderburn State Gold Battery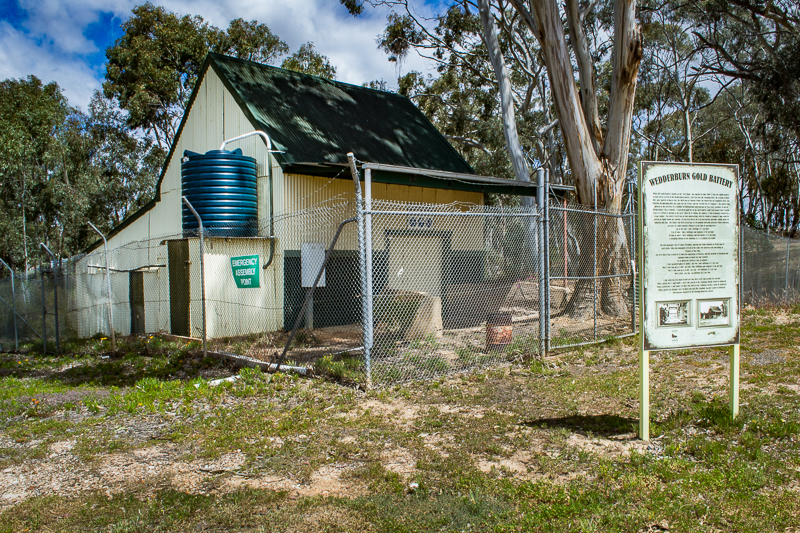 State gold battery, Wedderburn VIC
Known as "New Hope", this five head stamp battery was paid for by the government and opened in 1905 in hopes that it would lead to a revival of mining in the Wedderburn area. This battery is located alongside the entrance to the
Hard Hill Tourist Reserve
, a fantastic free campground. Stop by the state battery and take a look, along with the reconstructed
gold puddling machine
, mine adit, and the working eucalyptus stew pot which are located within the reserve.
Mt Egerton State Gold Battery
State gold battery, Mount Egerton VIC
Stop by and take a look at the fascinating Mount Egerton State Gold Battery, established in 1912 on the site of the former Blackhorse Mine battery in Mount Egerton. Housed within a shed and enclosed by a security fence, the five head stamp battery has been restored and is occasionally open to the public for demonstrations. This battery is located just 25 minutes from Ballarat.
Maldon State Gold Battery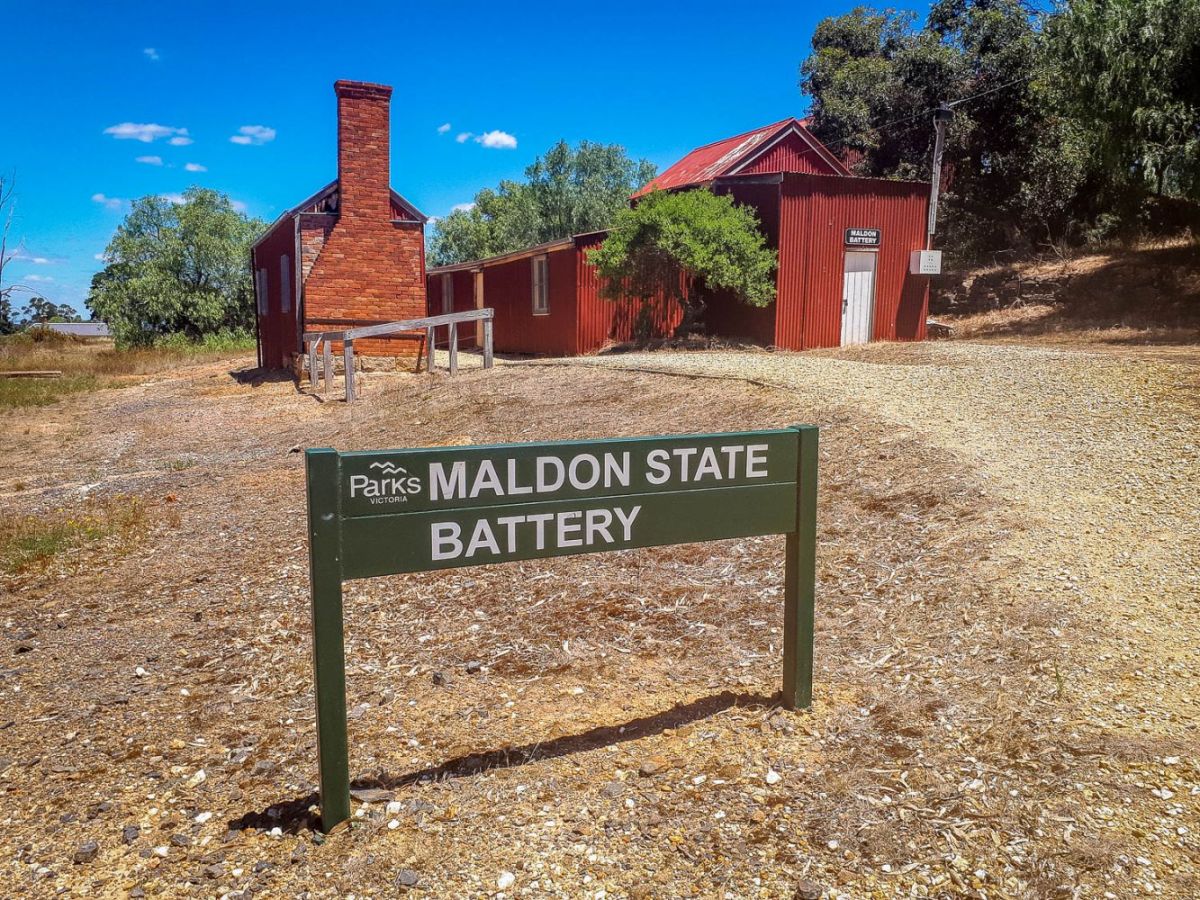 State gold battery, Maldon VIC
Take a walk from Maldon's iconic Beehive Mine to check out the impressive remains of the Maldon State Battery, opened in 1915 and last used in the 1990s. The site now consists of the former State Battery buildings and machinery, the Alliance Shaft and mining machinery foundations, sand heaps, and the site of the Welsh Swagman Joe Jenkins' house.
Creswick State Gold Battery
State gold battery, Creswick VIC
The Creswick State Battery stands on Battery Crescent overlooking a grassy field and the Creswick Creek below. The 1902 battery remains housed within a shed, complemented by a stone monument commemorating the 1851 discovery of gold in Creswick Creek.
Bright and Rutherglen State Gold Batteries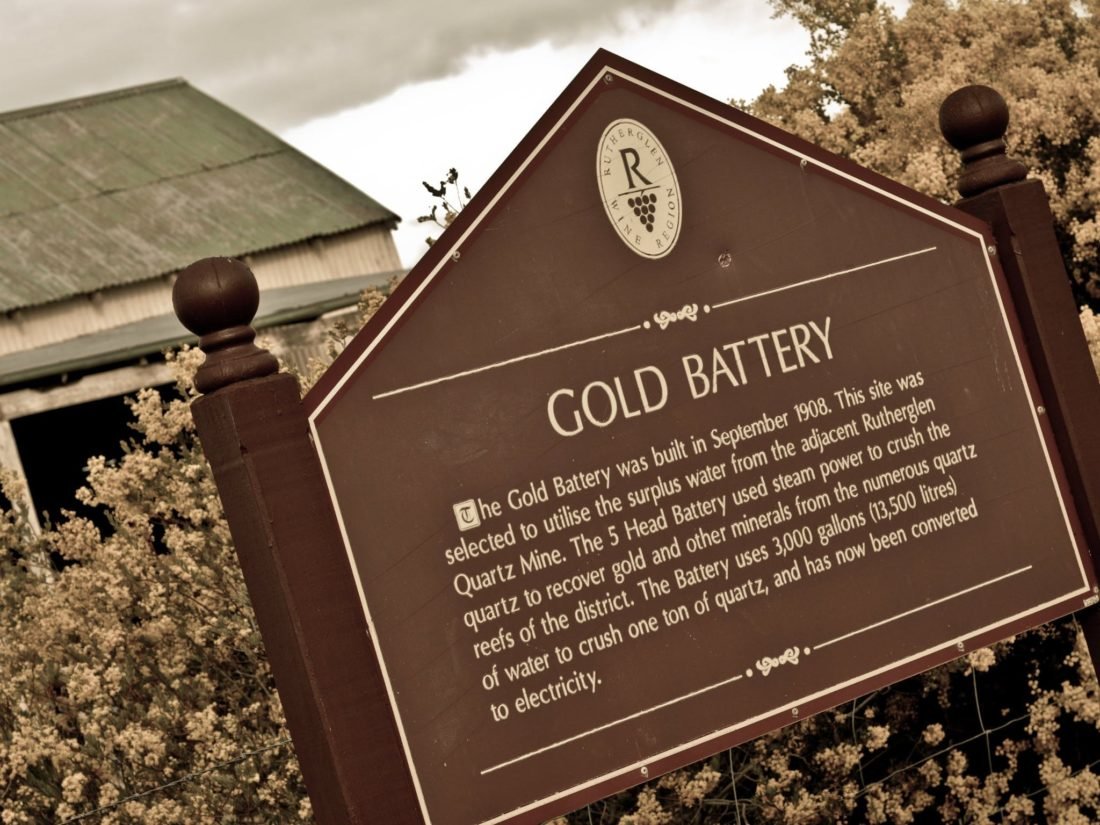 The remaining two Victorian state gold batteries are located in Victoria's High Country, up at
Bright
and
Rutherglen
.
see also
GREEN AND GOLD PROSPECTING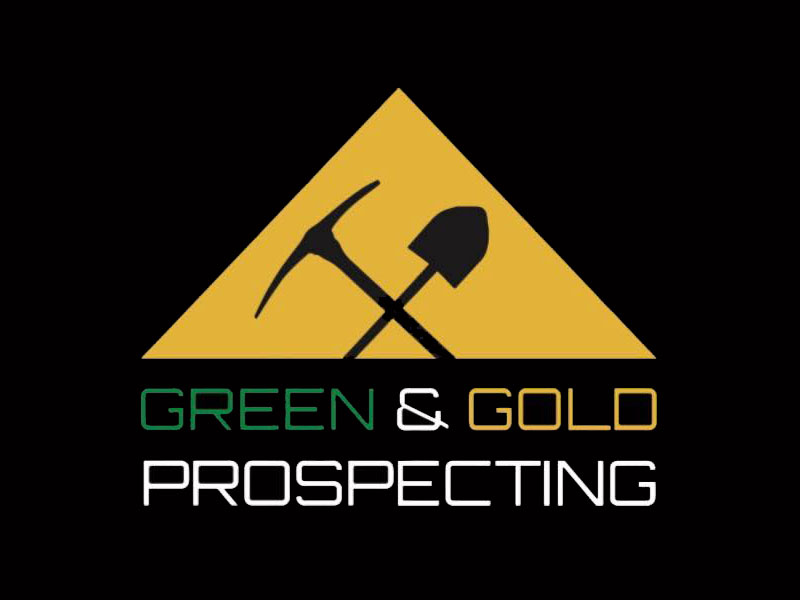 Are you looking for in-depth gold prospecting training, tips and tricks in Victoria's Golden Triangle?
Green and Gold Prospecting
provide exclusive one on one gold prospecting tours and training days, specialising in the Bendigo and Castlemaine regions. Great to book on your own or as a fun day out with the family, a training session with Green and Gold Prospecting offers valuable insight into the world of gold prospecting, and equips you with the knowledge you need to successfully search for gold on your own.