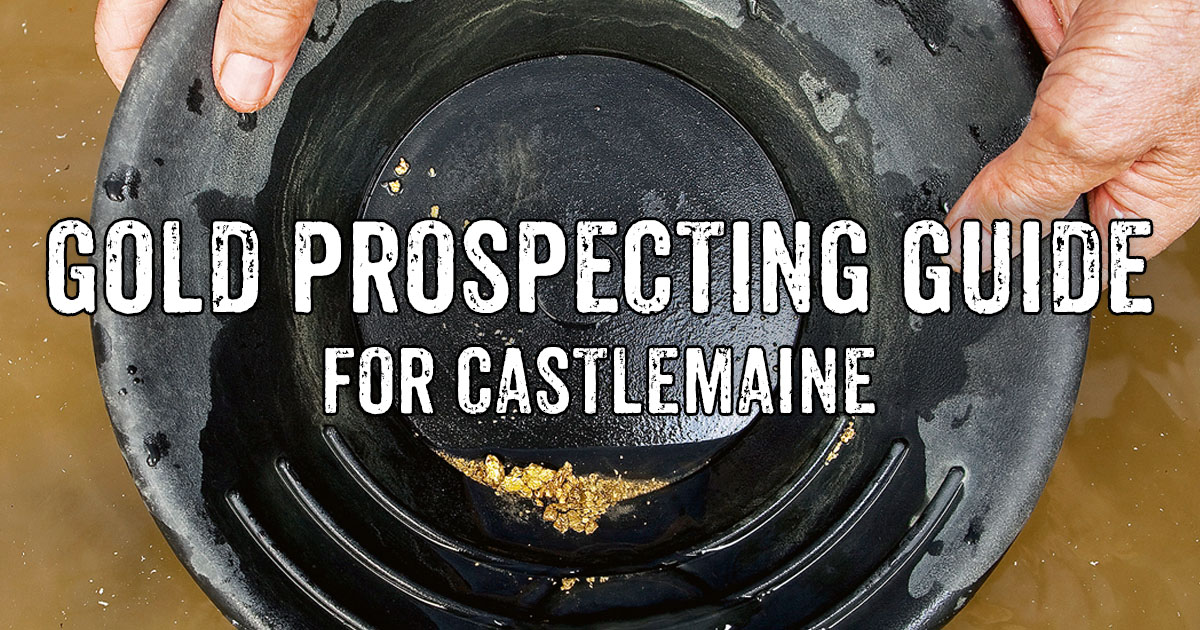 Are you looking to try your luck gold prospecting around Castlemaine?
During the gold rush, thousands upon thousands of people rushed to this area (then known as the Mount Alexander Diggings) seeking to strike their fortune on one of the richest shallow alluvial goldfields in the world!
The region remains a popular destination for gold prospecting to this day, and is filled with fascinating ruins and remnants from the gold rush throughout the remarkable Castlemaine Diggings National Heritage Park.
Whether you're looking to visit Castlemaine for gold detecting or to hit the creeks for some panning or sluicing, we've put together this handy gold prospecting guide to get you started in the area.
If you haven't already got one, be sure to grab a Miners Right before you head out looking for gold (you can purchase one
here
).
WHERE TO GO GOLD DETECTING AROUND CASTLEMAINE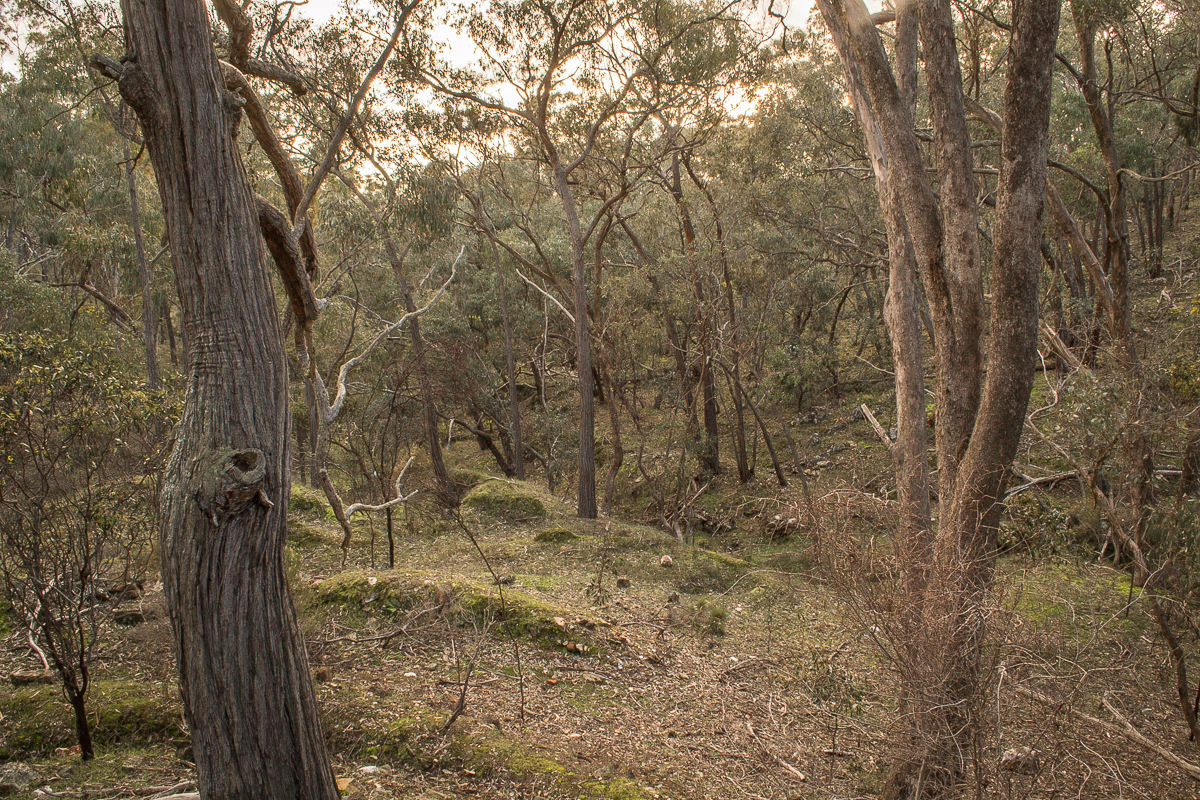 The Castlemaine area has a fantastic asset in the Castlemaine Diggings National Heritage Park, which protects the nationally significant historic cultural landscape of the Victorian gold rush.
This is also one of the few National Parks in Victoria which allows gold prospecting throughout most of the park, keeping the region's proud gold prospecting heritage in practice today.
As well as on crown land, gold prospecting is permitted in the following forests and reserves around Castlemaine.
Please note that this list is not complete (there are many smaller reserves throughout the area which aren't on this list), but will make a good starting point.
Castlemaine Diggings National Heritage Park (designated areas only, see Parks Victoria's prospecting map for the Castlemaine Diggings National Heritage Park)
Mount Alexander Regional Park
Fryers Ridge Nature Conservation Reserve
Chewton Bushland Reserve
Chewton H86 Bushland Reserve
Castlemaine H85 Bushland Reserve
Harcourt Bushland Reserve
Maldon Historic Area
Walmer State Forest
Upper Loddon State Forest
Guildford I132 Bushland Reserve
Guildford I133 Bushland Reserve
Guildford H79 Bushland Reserve
Muckleford State Forest
Muckleford Nature Conservation Reserve
Muckleford I135 Bushland Reserve
Muckleford I136 Bushland Reserve
Drummond I89 Bushland Reserve
Drummond I90 Bushland Reserve
Drummond I91 Bushland Reserve
Kangaroo Creek Bushland Reserve
Lauriston Bushland Reserve
Burk Streamside Reserve
Denver I87 Bushland Reserve
Holcombe Scenic Reserve
Dry Diggings Natural Features Reserve
Dry Diggings Bushland Reserve
Holcombe I84 Bushland Reserve
Holcombe I85 Bushland Reserve
Jim Crow Creek Streamside Reserve
Franklin I6 Bushland Reserve
Kennedy Gully Streamside Reserve
GOLD PANNING AND SLUICING AROUND CASTLEMAINE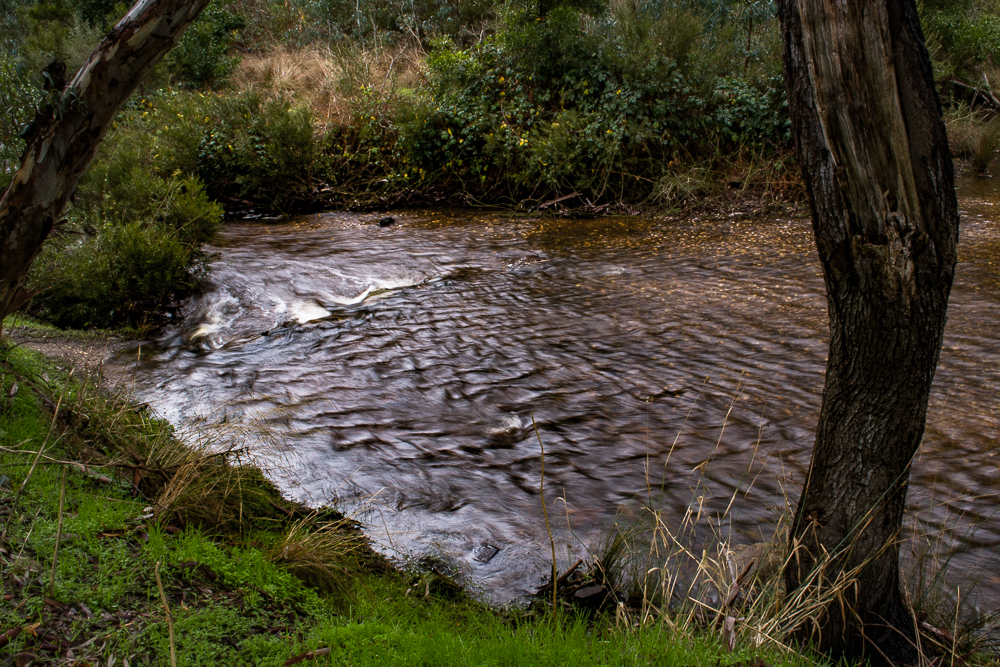 Creeks and rivers where prospecting is not permitted
A few of the creeks rivers around Castlemaine are off limits for prospecting, with the Loddon River, Coliban River, Campaspe River, and Jim Crow Creek all appearing on Earth Resources'
list
of rivers and streams where you can't prospect for gold.
Creeks and rivers where prospecting is allowed
Compared to many other goldfields, the Castlemaine area has a substantial number of creeks and rivers which are open for gold prospecting, including:
Forest Creek (of the famed Forest Creek Diggings)
Campbells Creek
Fryers Creek
Barkers Creek
Muckleford Creek
Middleton Creek
Tarilta Creek
Nuggetty Creek
Moonlight Creek
There are a huge amount of other small creeks and gullies throughout the area as well, though many are seasonal and some will only hold water for a short time after rains.
You may notice that Forest Creek and Campbell's Creek appear on the list of restricted rivers.
It refers to a different Forest Creek which is a tributary of the Campaspe River (up above
Lake Eppalock
), and a different Campbells Creek which is a tributary of the Avoca River (between Carapooee and Gowar East).
So the Forest Creek and Campbell's Creek in the Castlemaine area are fine for gold prospecting.
There are plenty of old mining dams throughout the bush which can be utilised for gold panning and highbanking as well.
These are easily spotted on Google Maps satellite view. These dams will generally hold water further into summer than the small seasonal creeks and gullies throughout the forests.
Maps for the area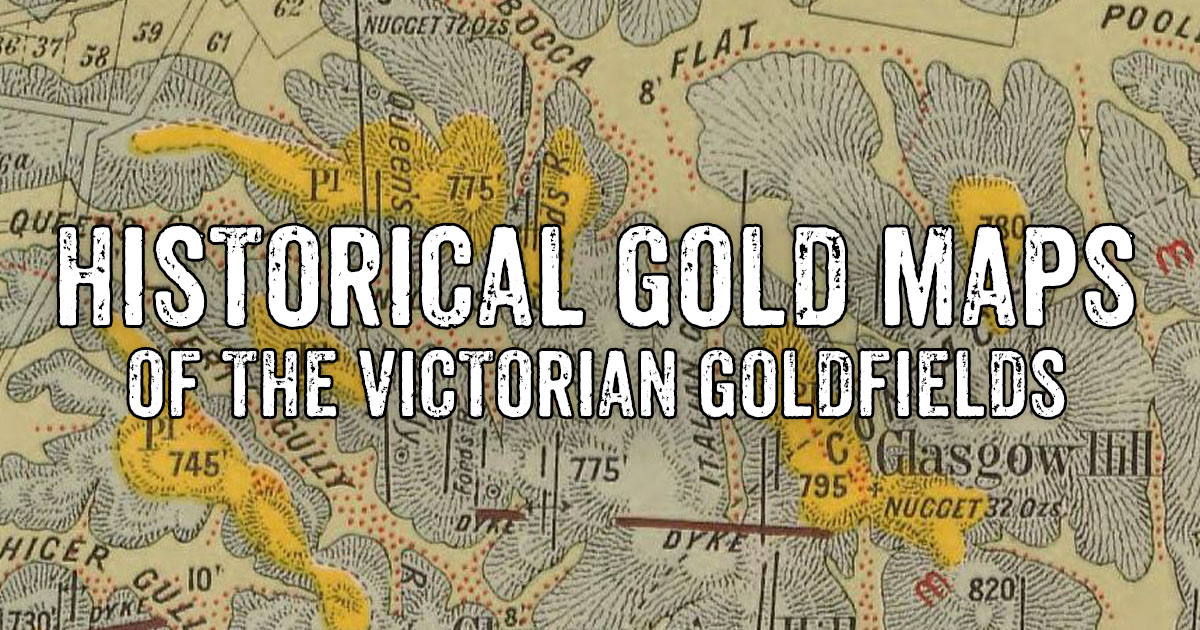 GOLD SHOPS, PROSPECTING TOURS AND DETECTOR HIRE AROUND Castlemaine
The closest gold shops and tours are located nearby in Bendigo.
INTERESTING GOLD MINING HISTORY AROUND Castlemaine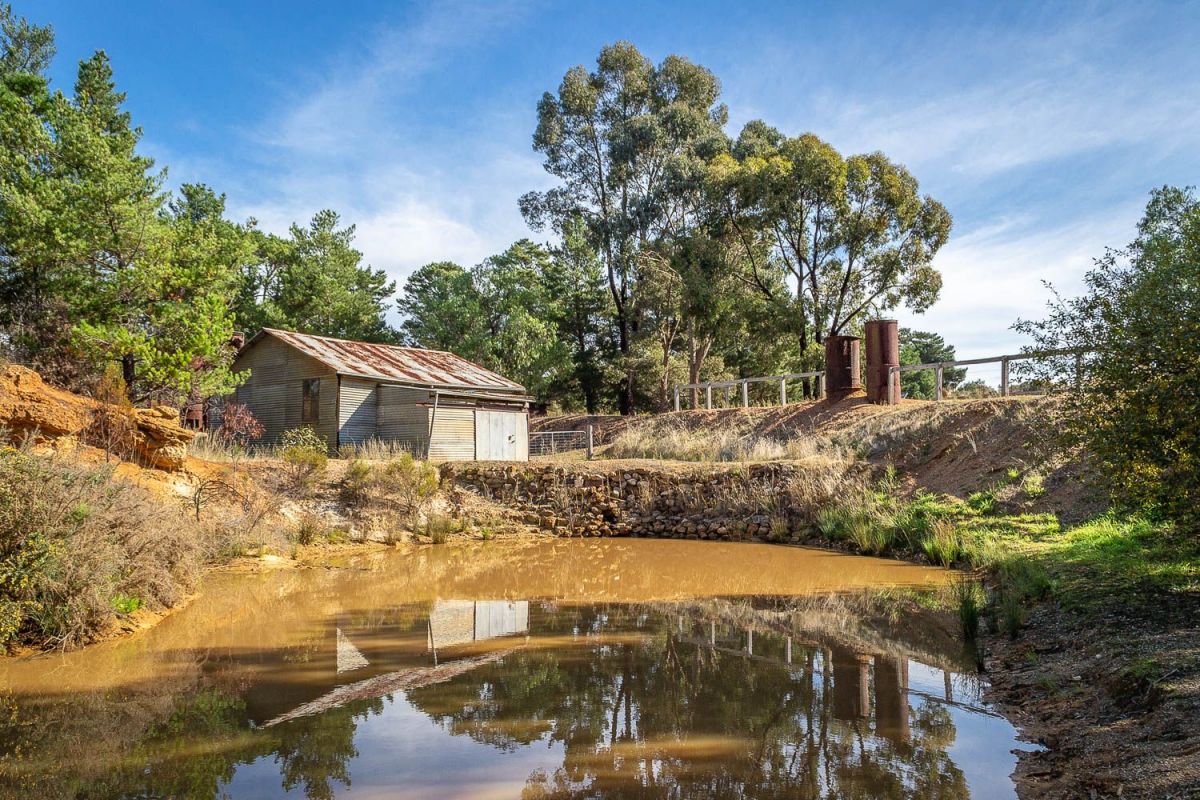 The area around Castlemaine is filled with fascinating ruins and relics of the region's rich mining history!
Places to explore include historic mines, old diggings,
gold puddlers
,
surfaced areas
, discarded boilers, and the remains of old cyanide plants.
These sites are definitely worth checking out while you're in the area:
FREE CAMPGROUNDS AROUND Castlemaine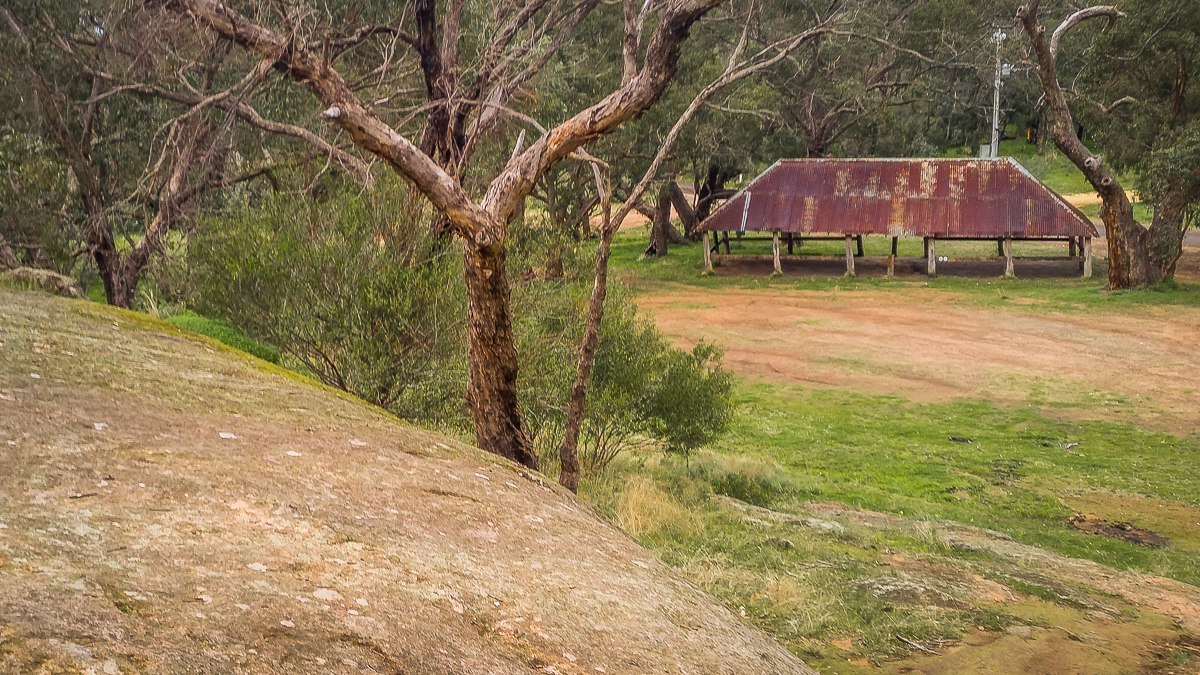 STAY SAFE WHILE GOLD PROSPECTING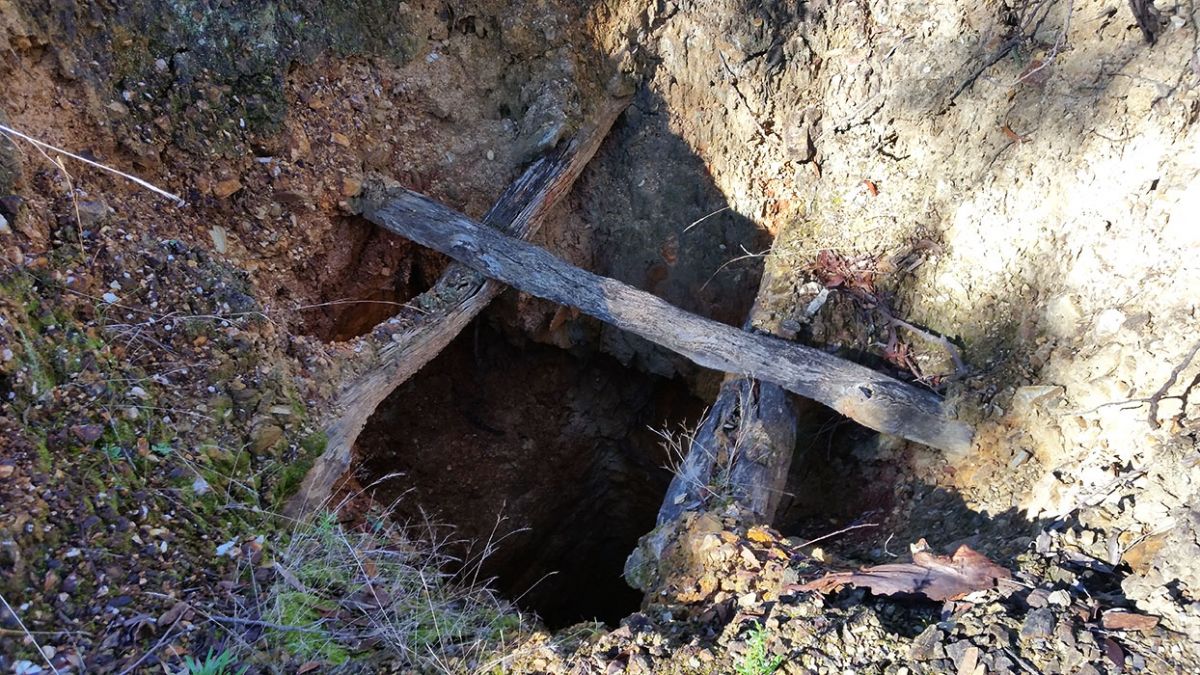 Always be wary where you are walking when gold detecting in the bush, as there are lots of
unexpected open mine shafts throughout the area
. You will also encounter uneven ground, slippery clay in wet weather, and there is always the possibility of encountering snakes in summer. Always let someone know where you are going before heading out bush.
Other local gold prospecting guides
SEE ALSO
PROSPECTORS AND MINERS ASSOCIATION VICTORIA

Established in 1980, the Prospectors and Miners Association of Victoria is a voluntary body created to protect the rights and opportunities of those who wish to prospect, fossick or mine in the State of Victoria, Australia.
You can support the PMAV in their fight to uphold these rights by
becoming a member
. You'll also gain access to exclusive publications, field days, prospecting tips, discounts and competitions.