Turpins Falls drops down over a gorgeous, huge semi-circular wall of rock into a large pool of water below. This is an impressive, peaceful location where you can swim beneath a
waterfall
! The best time of year to visit to see the falls flowing in full force is winter/spring. During the hotter months, water flow will be minimal except after rains.
There is a large parking area from which a walking track begins its steep (but fairly short) descent down into a gorge to the
waterfalls
below. Children must be well supervised and small children will need to hold parents' hands.
There are
No
facilities such as toilets, barbecues etc available at Turpins Falls, however there is a basic fire pit on a patch of pavement down by the water.
When you reach the bottom of the walk, you will be looking out over an area filled with large stones, boulders and huge natural structures of tree roots and fallen logs. Beyond this lies the beautiful lake surrounded by gorgeous cliffs. The impressive
waterfall
drops over the cliff across the lake from the rocky area, and a creek winds off to the left.
The boulders and logs make excellent natural seats as well as provide endless fun for children to climb and explore along the water's edge. There is also a medium sized tree that is fantastic for
climbing
.
Take a picnic lunch for a relaxing day out while enjoying picturesque views of the
waterfall
across the tranquil little lake.
Safety note - Turpins Falls has been a popular cliff diving spot but due to the location's history of injury and death, cliff diving is strictly prohibited for your own safety and access to the top of the falls is permanently closed.
More waterfalls in the Victorian Goldfields
Attractions nearby
There are lots of interesting attractions within half an hour of Turpins Falls, including:
GOLDEN NUGGET DISCOVERY TOURS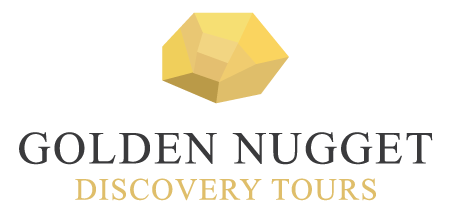 Experience the best Victoria has to offer with
Golden Nugget Discovery Tours
, a genuine Ecotourism Operator offering a wide range of nature, heritage and adventure tours throughout the many unique regions of Western and Central Victoria. Guided tours are available across the Goldfields, Daylesford & Spa Country, Pyrenees Wine Region, Grampians National Park, and Great Ocean Road!