From 11:59 pm on Wednesday 5 August 2020, Regional Victorians are allowed to engage in outdoor sport and exercise, using locations and facilities as close to home as possible.
Activities such as bushwalking, gold prospecting, bike riding, kayaking, are permitted, but only with either members of your own household or one person from a different household. Please read a complete overview of the current sport and exercise restriction levels for regional Victoria on the DHHS website.
If you are located within Victoria's Hepburn Shire, this list provides plenty of places to get out and explore for recreation and exercise while still staying close to home. Please use common sense with this one - choose places close by, around your own town. Do not travel all the way from one end of the shire to the other.
Trentham Falls, Trentham VIC
View from the walking track at Trentham Falls.
Trentham Falls is Victoria's highest single drop waterfall, where the Coliban River plunges 32 metres down over magnificent basalt columns before continuing on through the gorge below. A viewing area overlooks the waterfall and gorge, accessed by a quick 70 metre walk from the car park. An illustrated sign at the lookout provides fascinating information and a detailed diagram of the waterfall's geology.
Click for more information and images.
Loddon Falls, Glenlyon VIC
View over the waterfall and river travelling through the stunning basalt gorge.
The Loddon River Scenic Reserve in Glenlyon offers beautiful views, a scenic walk and a stunning waterfall. This peaceful reserve features Loddon Falls, where the Loddon River drops dramatically over a wall of huge hexagonal basalt columns into a pool below before continuing on through the spectacular rocky gorge.
Click for more information and images.
Sailors Falls, Sailors Falls VIC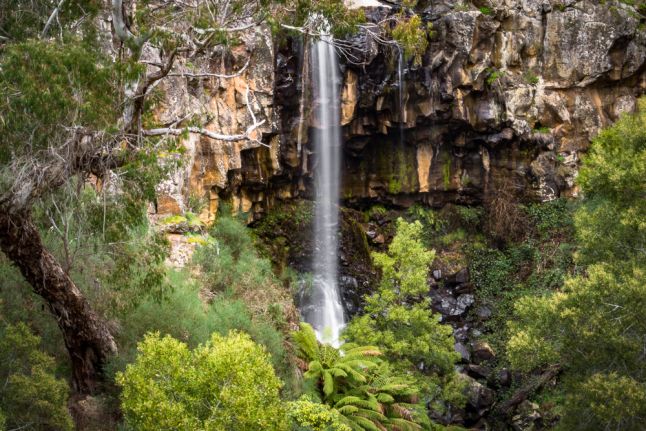 Visitors can walk right up to the base of Sailors Falls.
Sailors Falls Mineral Spring is located just outside Daylesford, Victoria and features a stunning seasonal waterfall, mineral spring taps, two undercover picnic tables and excellent information signs/displays. An attractive feature of this waterfall is that it is practically roadside, with a lookout right alongside the picnic area, then it only takes a few minutes to descend the stairs to reach the lower lookout, and a further few minutes to cross the creek and approach the base of the falls.
Click for more information and images.
Mount Beckworth Scenic Reserve, Mount Beckworth VIC
Roadside view of the Mount Beckworth Scenic Reserve.
Mount Beckworth Scenic Reserve offers free campgrounds and walking tracks, set in a beautifully rugged landscape just ten minutes from Clunes, Victoria. This striking granite outcrop is topped with a huge solitary pine tree known affectionately as the "Lollypop Tree", which is over 100 years old. Visitors to the reserve can hike up to the tree and enjoy stunning views of the surrounding countryside. There are three excellent campgrounds within the Mount Beckworth Scenic Reserve, all well structured and free of charge - no bookings required.
Click for more information and images.
Ginger Adams Eucalyptus Distillery, Clunes VIC
Explore the historic site at the Ginger Adams Eucalyptus Distillery.
The Ginger Adams Eucalpytus Distillery lies within the Dunach Nature Conservation Reserve between Clunes and Maryborough. The distillery lies alongside a pretty dam surrounded by seasonal blossoms and wattle trees. A solid wooden picnic table sits in a clear grassy area alongside a basic fire pit. This distillery is a well preserved example of its kind, with the boiler still intact and its brick surrounds and chimney still standing. Three vats with lids still remain in the ground along with the steel crane, cables still present. The boiler has been covered by a shelter, which will help further preserve the site for years to come.
Click for more information and images.
Mount Franklin, Mount Franklin VIC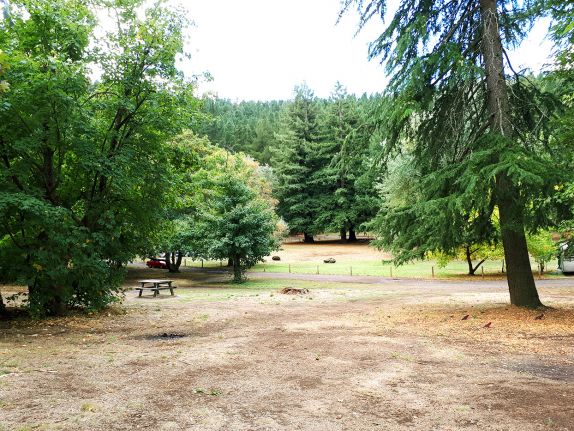 Explore the scenic crater of an extinct volcano at Mount Franklin.
A gorgeous and peaceful campground rests within the scenic crater of an extinct volcano at Mount Franklin. Bordered by conifer forest, the crater has been decorated with ornamental trees such as Silver Birch, White Poplar, Sycamore and Californian Redwoods. A large, central lawn area is surrounded by a ring of campsites with picnic tables and wood fire barbecues. A toilet block and water tank/tap is located close to the entrance of the campground. A 1.7km (45 minute) circuit walking track brings you up around the rim of the volcano to a fire lookout.
Pickpocket Diggings, Clydesdale VIC
Take a bushwalk or swing a gold detector in the Pickpocket Diggings.
The Pickpocket Diggings is a historical area alongside the Rise and Shine Nature Conservation Reserve in Clydesdale, Victoria. There is abundant evidence of old gold mining efforts through the bushland of the Pickpocket Diggings. It's an interesting place for bushwalking, birdwatching and gold prospecting.
Click for more information and images.
Blue Waters, Creswick VIC
Views over Blue Waters, a waterhole in an old open cut mine.
Blue Waters is a stunningly beautiful waterhole located within the Creswick Regional Park, right off the Melbourne Road and just minutes from the town centre. Once an open cut mine, Blue Waters is now a gorgeous scenic area fantastic for bushwalking, gold prospecting, four wheel driving and photography. Surrounded by striking red cliffs, the water often shines an iridescent blue when the sun hits it. A dirt road travels around the waterhole and offers many spectacular views over the water, as well as several tracks down to the bottom. This road makes an excellent walking track, with many spectacular viewing points and tracks down to the water along the way.
Click for more information and images.
Calembeen Park, Creswick VIC
Beautiful lake at Calembeen Park.
With its gorgeous twin lakes, sweeping displays of waterlilies, abundant bird life and plenty of fish, Creswick's Calembeen Park is a beautiful haven for relaxation and recreation. Walking tracks travel around and between the two lakes which offer scenic views.
Click for more information and images.
Hammon Park, Creswick VIC
Bring your bikes to the pump track at Creswick's Hammon Park.
This fantastic bitumen bike track in Creswick provides an endless pump track loop with rollers and berms. A picnic table sits in a grassy area alongside the track. The pump track is set at the edge of an oval with toilets located over on the far side. Creswick Creek runs alongside the oval.
Click for more information and images.
Long Point Bushland Reserve, Creswick VIC
The Long Point Bushland Reserve is a great place for bushwalking.
The Long Point Bushland Reserve is a significant site due to its remarkable mix of remnant vegetation which has endured and regenerated itself after the extensive land disturbances of 19th century mining. A wander around the reserve takes you through gullies and gold diggings, an old mine site, extensive scatterings of quartz rock, and lots of beautiful old trees - there are a remarkable number of different tree species throughout this wild patch of bushland. A gravel parking area sits alongside Gillies Road, where you will find an attractive information sign and a narrow walking track heading off into the reserve.
Click for more information and images.
Jubilee Lake, Daylesford VIC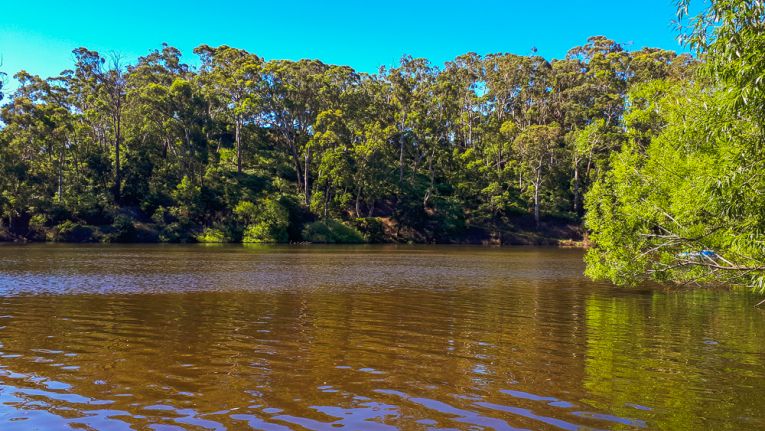 Daylesford's popular Jubilee Lake.
Jubilee Lake in Daylesford, Victoria is a popular spot for swimming, fishing, birdwatching, bushwalking, and picnicking. The lake is stocked regularly with rainbow trout, making this an excellent family-friendly fishing spot. You can also enjoy a scenic 30 minute circuit walk around the lake, and be sure to stop and sample the water at the mineral spring tap.
Click for more information and images.
Wombat Hill Botanic Gardens, Daylesford VIC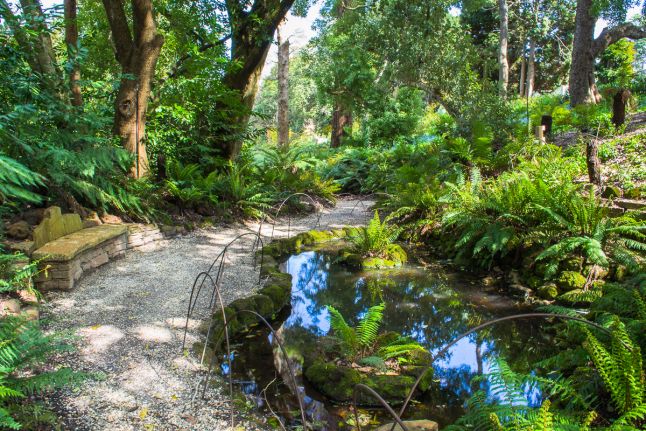 Stunning fernery in the middle of the gardens.
The Wombat Hill Botanic Gardens in Daylesford is set atop an extinct volcano and offers beautiful scenery, a vast display of plants, and an enchanted atmosphere. The vehicle entrance off Central Springs Road takes you on an unmissable scenic drive around the gardens and to a car park alongside the tall lookout tower. The car park features the lookout tower at one end and visitors facilities all around, including picnic tables, a picnic shelter, and a toilet block. A walking track takes you from the car park through the spectacular fernery, where a pond/waterfall feature sits nestled among the lush foliage. Children will love the gorgeous animal sculptures dotted throughout the park!
Click for more information and images.
SEE ALSO