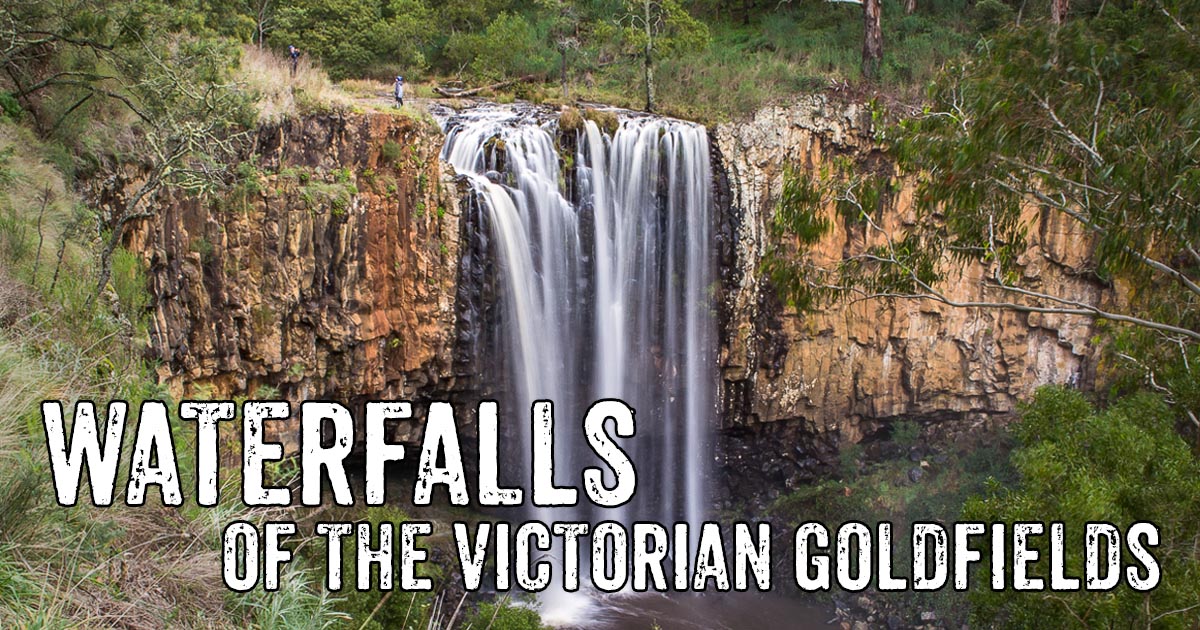 There are so many beautiful waterfalls to explore throughout the Victorian Goldfields!
Explore the stunning basalt gorge at Loddon Falls, relax in the shady rockpools beneath Sailors Falls, discover gold mining history at the Hepburn Blowhole, and more.
Check out this huge list of local waterfalls and start planning your next adventure in the Victorian Goldfields.
Turpins Falls, Langley VIC
Turpins Falls rush down over a huge semi-circular wall of rock into a large pool of water below. This is an impressive, peaceful location where you can swim beneath a waterfall.
Loddon Falls, Glenlyon VIC
The Loddon River Scenic Reserve in Glenlyon offers beautiful views, a scenic walk and a stunning waterfall.
Colbrook Reservoir, Colbrook VIC
One of the most beautiful lakes in the Victorian Goldfields, Colbrook Reservoir is an amazing place for bushwalking, swimming, bush camping, and photography.
Lal Lal Falls, Lal Lal VIC
Moorabool Falls, Lal Lal VIC
A gorgeous stream of water drops dramatically into a tranquil pool surrounded by rocks, moss and ferns.
Granite Falls, Lal Lal VIC
Viewing this waterfall is tricky as the walking track is little more than a narrow trail along a steep slope and the way is obstructed in many places by rock hopping, slippery ground, pot holes in the grass, and a thick tangle of blackberry bushes.
Trentham Falls, Trentham VIC
Stanley Park Waterfall, Mount Macedon VIC
This beautiful little waterfall is tucked away within the Stanley Park Bushland Reserve in Mount Macedon.
Turitable Creek runs through the reserve and cascades down over a rocky ledge into a little gully filled with ferns and lush vegetation.
Ferntree Falls, Raglan VIC
The Cascades, Metcalfe VIC
This extraordinary hidden gem is tucked away in the quiet town of Metcalfe, just 25 minutes from Castlemaine and 40 minutes from both Bendigo and Daylesford.
A series of cascades sweep over layers of bedrock as the water whirls down through rockpools, crevices and little caverns.
Avoca Falls, Percydale VIC
This waterfall only flows after periods of heavy rain, but the wall of rock over which the water drops is a sight to behold whether it is flowing or not.
Cairn Curran Spillway, Baringhup VIC
Although this is not a natural waterfall, it definitely deserves to make the list.
The water flowing from the Cairn Curran Weir cascades dramatically down over layers of huge rocks - a very impressive sight!
The Blowhole, Hepburn VIC
What's your favourite waterfall in the Victorian Goldfields? Let us know in the comments below.