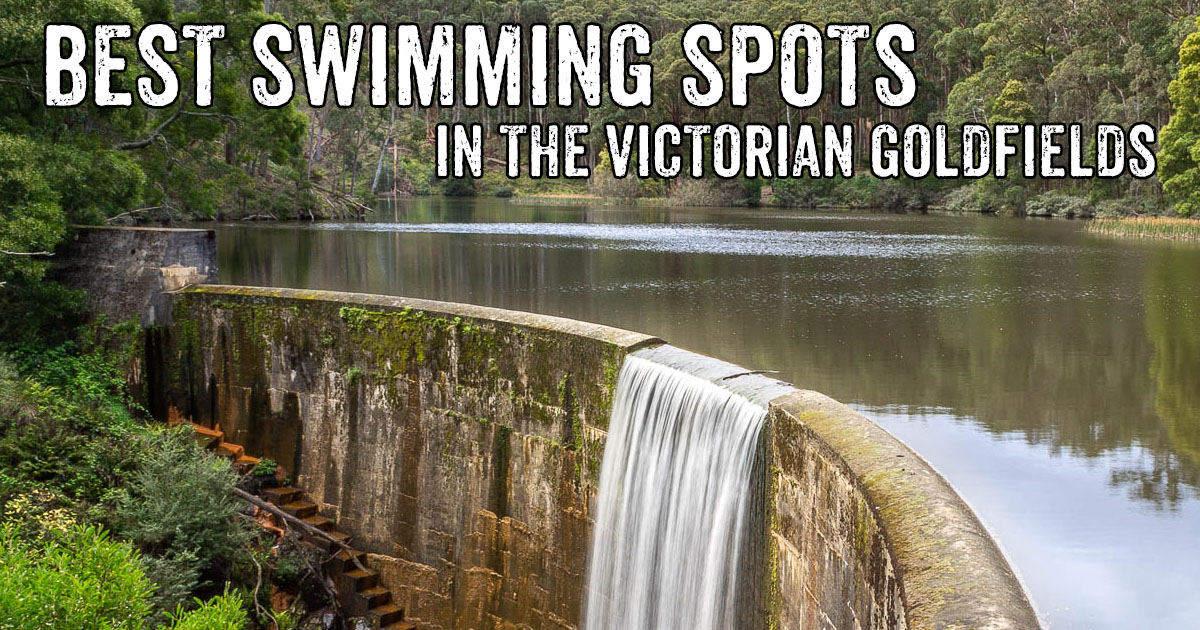 Looking for your new favourite place to take a dip this summer?
There are plenty of fantastic swimming spots throughout the Victorian Goldfields!
We have so many scenic creeks, rivers and reservoirs which are great for swimming, fishing, picnics and more.
Check out some of Goldfields Guide's top picks for swimming in the area...
1. The Cascades, Metcalfe VIC
2. Calembeen Park, Creswick VIC
With its gorgeous twin lakes, sweeping displays of waterlilies, abundant bird life and plenty of fish, Creswick's Calembeen Park is a beautiful haven for relaxation and recreation.
A multi-level diving tower is a dominant feature along the water's edge. The swimming lake at Calembeen Park has a depth ranging from 1 - 30 metres with a sudden, steep drop - exercise caution when swimming and always supervise children.
There is a safer, shallow section of the lake off to the side which is great for children.
3. Beaufort Lake, Beaufort VIC
Beaufort Lake is a fantastic reservoir for swimming, boating, walking and picnics.
Bring a barbecue lunch and take a scenic walk around Beaufort Lake, enjoying the informative Koori Art Trail along the way.
4. Colbrook Reservoir, Colbrook VIC
One of the most beautiful lakes in the Victorian Goldfields, Colbrook Reservoir is an amazing place for bushwalking, swimming, bush camping, and photography.
Featuring a stunning dam wall complete with seasonal waterfall, this place is a must-see when exploring the beauty of the Wombat State Forest.
This spot is best accessed by four wheel drives or walkers.
5. Lake Eppalock, Eppalock VIC
Lake Eppalock is located just 25 minutes from Bendigo and is a popular destination for boating, water sport, fishing, swimming, bushwalking, barbecues and picnics.
There are lots of fantastic visitor facilities at various locations around Lake Eppalock including multiple picnic areas with electric barbecues, public boat ramps, several public toilet blocks, and a kiosk.
Camping facilities are provided in multiple caravan parks around Lake Eppalock.
6. Expedition Pass, Golden Point VIC
Expedition Pass is a scenic reservoir in Golden Point, just a few kilometres from Chewton and Castlemaine.
This reservoir is fantastic for swimming, fishing, bushwalking, canoeing and birdwatching.
There are no facilities on site, so bring along a picnic blanket and enjoy a swim and a peaceful picnic lunch by the water.
7. Vaughan Springs, Vaughan VIC
9. Cairn Curran, Baringhup VIC
The Cairn Curran Reservoir is an enormous water catchment managed by Goulburn-Murray Water, located between Baringhup, Joyces Creek and Welshmans Reef.
This is a fantastic spot for swimming, fishing, boating, picnics and barbecues.
10. Laanecoorie Reservoir, Laanecoorie VIC
Laanecoorie is a beautiful little town within the Loddon Shire, well known for the gorgeous Laanecoorie Reservoir and the fantastic picnic, camping and recreation facilities which surround it.
Laanecoorie and the Loddon River are fantastic for swimming, boating and fishing!
11. Jubilee Lake, Daylesford VIC
Jubilee Lake in Daylesford, Victoria is a popular spot for swimming, fishing, birdwatching, bushwalking, and picnicking.
The lake features excellent barbecue facilities, a playground, picnic tables, walking track, mineral spring tap, kiosk, cafe and toilets.
12. Mount Cameron Gorge, Mt Cameron VIC
Mt Cameron-Cotswold Road, in Mount Cameron, drops unexpectedly into a deep gorge before crossing Tullaroop Creek.
This beautiful little patch along the creek is a great spot for swimming and fishing.
This area is great to bring kids swimming as the creek floor is covered with smooth stones and there's a fair stretch of shallow water before it starts to get deeper.
13. Bridgewater Swimming Hole, Bridgewater VIC
The scenic Bridgewater Swimming Hole has been a local favourite for generations!
The spot now features a beautiful picnic and barbecue area which overlooks the water, and easy riverside walking tracks complete with viewing platforms.
14. St Georges Lake, Creswick VIC
St Georges Lake is a local favourite for swimming, walking and photography.
Once a mining dam known as "Govvy Dam", the lake has been developed into a picturesque haven for relaxation and recreation.
15. Lake Burrumbeet, Burrumbeet VIC
Pack a picnic lunch and spend the afternoon at Lake Burrumbeet, a great place for swimming, fishing, boating, bushwalking and picnicking.
16. Crusoe Reservoir, Bendigo VIC
Crusoe Reservoir is the best freshwater swimming spot within Bendigo itself, and is a local favourite for swimming, fishing, kayaking, bushwalking and photography.
Surrounded by bushland views and scenic walking tracks, this is a beautiful spot for water recreation and relaxation.
17. Rocky Crossing, Goornong VIC
Less than half an hour from Bendigo, Rocky Crossing is a picturesque spot on the Campaspe River where the water rushes through a shallow, rocky section creating swirling rapids and a few seasonal rockpools.
A day visit parking area sits to the left of Rocky Crossing Road, and to the right is a free camping area which stretches along the bank of the river offering beautiful views over the water.
18. Englishs Bridge, Goornong VIC
Englishs Bridge Streamside Reserve is a great swimming and camping spot along the Campaspe River, just half an hour from Bendigo.
Set up camp and take a dip alongside the bridge, bring the rods for an afternoon of fishing, or head off on a kayaking adventure down the scenic river.
19. Pykes Creek Reservoir, Myrniong VIC
Pykes Creek Reservoir is a popular spot for fishing, boating, swimming and picnics just half an hour from Ballarat, where multiple recreation areas are spread along the eastern shore of the reservoir.
20. Twin Bridges, Daylesford VIC
A set of stepping stones crosses this picturesque section of Sailors Creek, where visitors will find a great swimming hole, a beautiful rocky outcrop over the water, a tunnel through the rock, and plenty of shade.
A beautiful spot for swimming, you'll find there are shallow areas for small children around the stepping stones and a deeper area over by the bend.
Gold prospecting is also permitted in Sailors Creek.
What's your favourite swimming spot in the Victorian Goldfields? Let us know in the comments below!