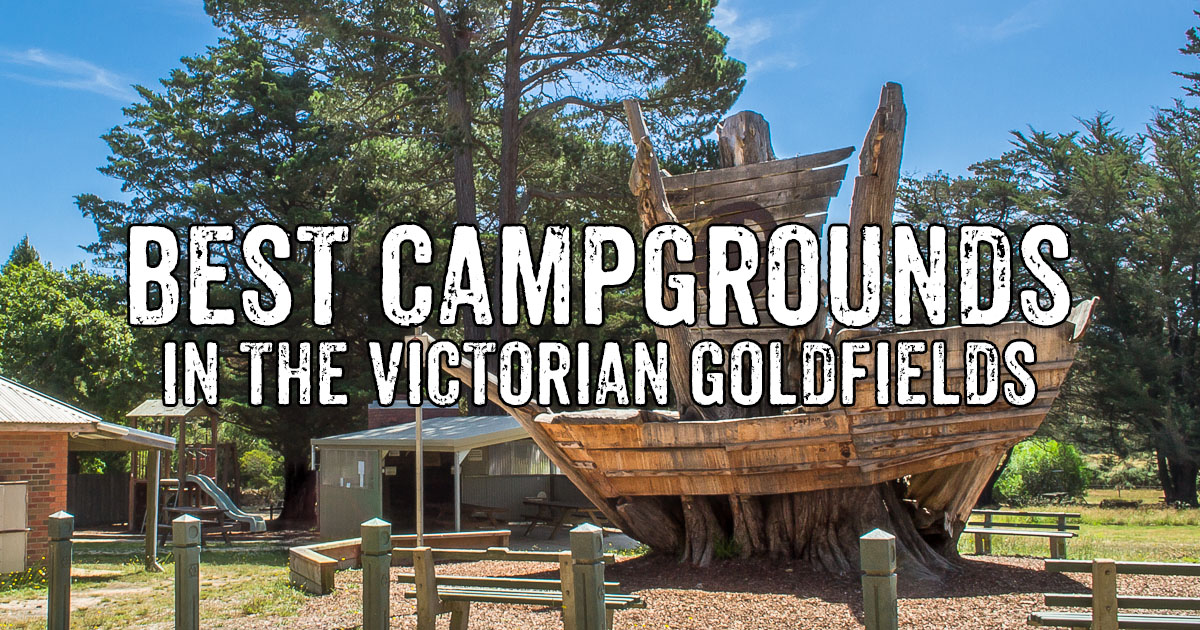 With many fantastic campgrounds located close to historical sites, natural treasures and scenic walks, camping is a great way to explore the Victorian Goldfields.
Take a look through the following list to discover some of the best campgrounds throughout the region!
You may also be interested to check out our in-depth lists of free campgrounds for the areas around
Ballarat
,
Bendigo
,
Maryborough
and
Castlemaine
.
Leanganook Campground, Harcourt North VIC
Leanganook Campground is located within the Mount Alexander Regional Park.
Multiple campsites are spread around the central picnic area, and facilities include picnic tables, wood fire barbecues, fire pits, toilets and water taps.
Visitors can enjoy the Mount Alexander Regional Park through picnicking, bushwalking and birdwatching.
Vaughan Springs,
Vaughan VIC
This beautiful riverside park features a giant slide, mineral spring taps, swimming spots, a few great trees for climbing, scenic walks, a miniature railway track within a fenced area (great for little kids), several free electric barbecues, picnic tables, a gazebo, toilets and plenty of educational signs.
Camping is available at the Upper Terrace Campground, which is a short walk up the hill from the day visitor area. No booking is required, there is no charge, and caravans can access the campground easily.
Melville Caves, Brenanah VIC
The Melville Caves Campground is located just a moments drive from the caves themselves and features multiple separate campsites with picnic tables, fire pits with wood fire barbecue plates, a toilet block and a large undercover area.
There are several great walks from the Melville Caves Campground.
Cork Oaks Campground, Mount Beckworth VIC
Bealiba Reservoir Recreation Area,
Bealiba VIC
The Bealiba Reservoir Recreation area is a fantastic spot for camping, picnics, fishing, swimming and bushwalking.
There are three picnic sites around the small reservoir, two of which are well equipped with tables, chairs and fire pits.
Two non-flush toilets are close to the picnic areas.
The dirt tracks around the reservoir make great walking/cycling tracks, and there are several great trees for kids to climb.
Teddington Hut Camping Area, Redbank VIC
The Teddington Hut Camping Area features an interesting two room wooden hut, constructed around 1955, open for campers to use respectfully.
The hut is surrounded by the beautiful bushland of the Kara Kara National Park.
Alongside the hut there is a single picnic table, a wood fire barbecue, and a small toilet block.
Advanced bookings are required - phone 131 963.
Warburtons Bridge, Glenluce VIC
Located within a bend of the scenic Loddon River, Warburtons Bridge in Glenluce is a spacious campground featuring multiple picnic tables, wood fire barbecues, fire pits and a toilet.
Campsites sit right alongside the river with views of some beautiful rocky outcrops on the surrounding hillsides.
Dogs are permitted here on a lead.
Mount Franklin Campground,
Mount Franklin VIC
A gorgeous and peaceful campground rests within the scenic crater of an extinct volcano at Mount Franklin.
Bordered by conifer forest, the crater has been decorated with ornamental trees such as Silver Birch, White Poplar, Sycamore and Californian Redwoods.
A large, central lawn area is surrounded by a ring of campsites with picnic tables and wood fire barbecues.
A toilet block and water tank/tap is located close to the entrance of the campground.
Green Hill Lake,
Ararat VIC
Green Hill Lake is a fantastic free area for recreation, camping, fishing, boating, swimming, barbecues and bushwalking.
Laanecoorie River Recreation Reserve, Laanecoorie VIC
The Laanecoorie River Recreation Reserve is a fantastic campground along the Loddon River in the quiet town of Laanecoorie.
The campground has plenty of space, a designated tent area, and lots of room for caravans/motorhomes.
The campground contains multiple picnic tables, wood fire barbecues, water taps, rubbish bins and toilets.
Dogs are permitted here on a lead.
Lions Club Park,
Avoca VIC
The Lions Club Park in Avoca is located on the bank of the Avoca River, and is a great spot for camping, barbecues and picnics.
Beside the playground is a large gazebo with an electric barbecue, two picnic tables, and a water tap on the side.
There is another picnic table located a short distance away in the camping area, surrounded by a cluster of beautiful trees.
The camping area is a large, clear, flat area between the barbecue/playground and the creek, and offers easy access for caravans.
Iron Mine and Blast Furnace,
Lal Lal VIC
Explore the fascinating ruins of Lal Lal's iron mine and blast furnace, where a circuit walk begins at the picnic area and takes you on a short scenic walk along the hillside to the impressive historic blast furnace.
You can view the blast furnace from a wooden platform with a railing, and there are several interesting information signs about the Lal Lal Iron Company, the blast furnace itself, the former blacksmith's shop, and the men who lived and worked there.
The picnic and camping area features picnic tables, fire pits and crude wood fire barbecue, a large toilet block, and plenty of room for camping.
Waterfalls Campground, Percydale VIC
This peaceful, spacious campground is located about 20 minutes drive from the goldfields town of Avoca.
The campsite offers several large areas of flat, clear, grassy ground. There are picnic tables, wood fire barbecues, fire pits and toilets.
Dogs are permitted here on a lead.
Ditchfield Camp,
Raglan VIC
Ditchfield Camp is a fantastic free camping area within the Mount Cole State Forest - a beautiful scenic area with amazing views, popular for camping, horse riding, four wheel driving, walking and picnicking.
Located about an hour from both Ballarat and Maryborough, the campsite features a large wooden hut with concrete floor, bench table (no seating) and an open fireplace.
This hut is available to camp in. No fees or bookings are required, it is recommended to arrive early if you are seeking to use the hut as it is used on a 'first in first served' basis.
Dogs are permitted here on a lead.
Slaty Creek Campground No. 1,
Cabbage Tree VIC
Slaty Creek Campground Number 1 is the first of three campsites along Slaty Creek within the Creswick Regional Park.
This area is fantastic for bushwalking, birdwatching and gold prospecting.
Take a stroll through the beautiful forest or bring along a gold pan and try your luck panning in the creek.
A picnic area lies alongside the campsites and features the gazebo, toilet block (non flushing), and multiple wood fire barbecues and picnic tables.
Camping areas here are located on both sides of Petticoat Link Track, with Slaty Creek running alongside both.
No booking is required, camping is free.
Dogs are permitted here on a lead.
Ferntree Falls Campground,
Raglan VIC
Ferntree Falls is a stunning waterfall nestled among the huge ferns and moss covered rocks within the spectacular Mount Buangor State Park.
Experience the beauty of upper Middle Creek, a tributary which meanders through the park among the forest of tree ferns and water ferns.
Just around the corner from the walking trail and picnic area you will find five secluded campsites in a bushland setting, each with a picnic table, fire pit and wood fire barbecue.
Bookings and payment must be made to camp here, you can book online with Parks Victoria.
Chinamans Campground,
Mt Cole VIC