From iconic poppet head lookout towers to panoramic hillside views, there are so many stunning lookouts across the Victorian Goldfields. Discover new places where you can look down over waterfalls, mine sites and beautiful gold rush towns, as well as appreciate the gorgeous surrounding mountain ranges, forests and fields.
We've gathered this huge collection of our favourite lookouts throughout the region! Check them out and get some fresh inspiration for your next day out.
Mount Moliagul Lookout, Moliagul VIC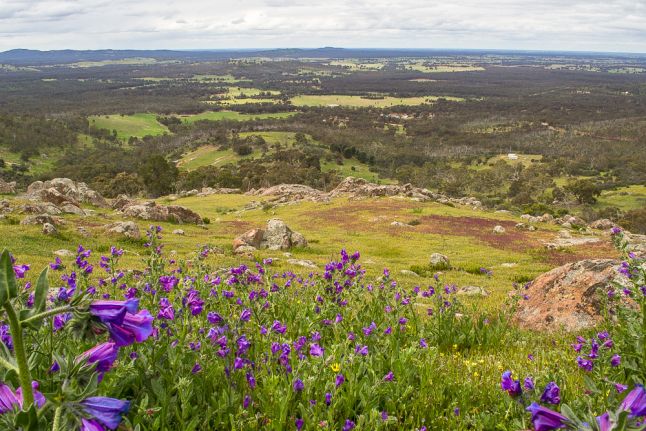 The summit of Mt Moliagul offers spectacular views of the surrounding bushland and fields. Take a stroll along the rocky mountain slopes, where you'll find many great vantage points and plenty of stunning scenery. The best time to visit Mt Moliagul is from winter to early summer when the grass is green.
Find out more about Mount Moliagul
.
Black Hill Reserve, Ballarat VIC
Black Hill Reserve is a scenic park just minutes from the Ballarat CBD which offers amazing views over Ballarat, remnants of open cut and shaft mining, beautiful scenery, walking tracks, picnic tables, and an excellent Mountain Bike Park.
Melville Caves, Brenahah VIC
Mount Tarrengower, Maldon VIC
The Mt Tarrengower Lookout Tower was constructed in 1923 using the poppet head from the Comet Mine in Bendigo. A fascinating direction-board on the first viewing platform shows the directions and distances for many interesting visible landmarks, including Cairn Curran Reservoir, Mt Alexander, Mt Macedon, Mt Franklin and the Grampians.
One Tree Hill, ararat VIC
One Tree Hill is a lookout point at the edge of Ararat Hills Regional Park, which offers spectacular panoramic views over the town of Ararat and surrounding areas. A narrow road climbs One Tree Hill and opens up at the top as a large gravel parking area. A circular shelter has four signs indicating the directions of many visible landmarks in the surrounding area.
Rose Hill, Inglewood VIC
Take a drive up to Rose Hill near Inglewood and discover stunning views over the surrounding mountains, bushland and fields. A sealed road takes you to the top where you can park your car and wander around the top to find the scenic views in all directions.
Bristol Hill Pioneer Memorial Tower, Maryborough VIC
The Bristol Hill Pioneer Memorial Tower was built in 1933 during the Great Depression. It was constructed largely of material from the old Maryborough Gaol. It's located at the edge of Bristol Hill Reserve and offers amazing views of the town and surrounding bushland. Bristol Hill is based upon and named for Bristol Reef, which was mined for gold from the late 1850's. Old tailings are visible to the west of the memorial tower.
Sailors Falls, near Daylesford VIC
Sailors Falls Mineral Spring is located just outside Daylesford, Victoria and features a stunning seasonal waterfall, mineral spring taps, two undercover picnic tables and excellent information signs/displays. An attractive feature of this waterfall is that it is practically roadside, with a lookout right alongside the picnic area, then it only takes a few minutes to descend the stairs to reach the lower lookout, and a further few minutes to cross the creek and approach the base of the falls.
Rock of Ages, Maldon VIC
Rock of Ages is a spectacular rocky outcrop atop Mount Moorul, overlooking the beautiful historic town of Maldon. Enormous boulders are staggered across the mountain, where visitors can appreciate stunning views of the town, surrounding countryside, Mount Tarrengower, and Maldon's historic cemetery below.
Bald Hills, Kingower VIC
Head up to Kingower's Bald Hills and take in the spectacular views of the surrounding mountains, fields and bushland. Located within the Kingower State Forest, this is a great vantage point to spot the resident wedge-tailed eagles who live and hunt in the bushland below.
Poppet Head Lookout, Bendigo VIC
Bendigo's iconic Poppet Head Lookout stands atop Camp Hill and overlooks the gorgeous Rosalind Park, Bendigo city, and surrounding bushland. Installed at this site in 1931, the poppet head was originally used at the Garden Gully United mine. During the gold rush, Camp Hill was visible from all of Bendigo so it was used as a spot to hoist flags indicating that mail had arrived in town.
The Granites, Borung VIC
Known locally as The Granites, Mount Egbert is a marvellous hidden gem within the Wychitella Nature Conservation Reserve. Located twenty minutes from Wedderburn, this small but stunning mountain rises strikingly above the surrounding bushland, covered in massive boulders and offering breathtaking views over the countryside below.
Lang's Lookout, Harcourt North VIC
This spectacular lookout is situated on the eastern side of Mount Alexander, and offers unrivalled views across the sweeping fields of Sutton Grange. The lookout consists of a huge platform of granite, with massive boulders stacked impressively across the mountainside all around. This is just a small section of the gorgeous rocky outcrop which stretches across Mount Alexander!
Red Knob Mining Landscape, Vaughan VIC
When driving through the gorgeous little town of Vaughan, you'll be sure to notice the stunning red landscape in the valley beside the road. Known as Red Knob, these dramatic cliffs are the result of hydraulic sluicing operations in the mid 20th century.
Viewing Rock Lookout, Heathcote VIC
The Viewing Rock Lookout is a rocky outcrop atop a mountain ridge offering spectacular views over Heathcote and beyond. A large flat rock stands out at an angle, which is the perfect spot to climb up and look out over the countryside. This rock is also a great spot to sit for photos.
Mount Bealiba, Bealiba VIC
St Georges Lake Lookout, Creswick VIC
Victoria Hill, Bendigo VIC
Take a walk through the Victoria Hill Mining Reserve and explore the site of Victoria's deepest gold mine. A huge poppet head has been converted into a lookout platform, a dominant feature of the reserve. Carefully climb the steps to the lookout and take in the beautiful views over Bendigo. See how many other poppet heads you can spot around the town!
Loddon Falls, Glenlyon VIC
The Loddon River Scenic Reserve in Glenlyon offers beautiful views, a scenic walk and a stunning waterfall. This peaceful reserve features Loddon Falls, where the Loddon River drops dramatically over a wall of huge hexagonal basalt columns into a pool below before continuing on through the spectacular rocky gorge.