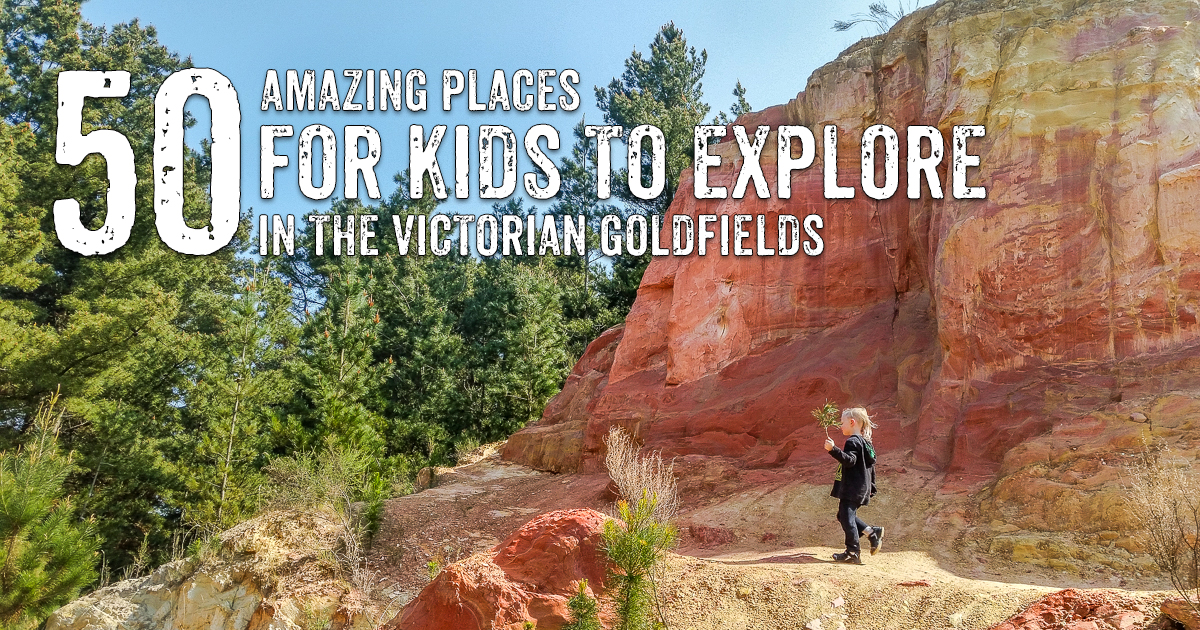 There are so many amazing places for kids to explore throughout the Victorian Goldfields! My own kids have had so much fun on their adventures through this beautiful region that it was hard to choose just fifty of our favourites for this list. If you're after a new outdoor adventure for your family, look no further - the following fifty locations are absolutely unmissable and are always a big hit with the kids.
1. Blackwood Mineral Springs Reserve, Blackwood VIC
2. St Georges Lake, Creswick VIC
3. Koala Park, Creswick VIC
4. Hepburn Graves, Smeaton VIC
5. Lake Weeroona, Bendigo VIC
6. Mount Beckworth Scenic Reserve, Mount Beckworth VIC
7. Taradale Mineral Springs Reserve, Taradale VIC
8. Malmsbury Botanic Gardens, Malmsbury VIC
9. Stanley Park Waterfall, Mount Macedon VIC
10. Mount Korong, Glenalbyn VIC
11. Dog Rocks, Harcourt North VIC
12. The Cascades, Metcalfe VIC
13.
Charlie Fox's House, Maldon VIC
14. Calembeen Park, Creswick VIC
15. Ferntree Falls, Raglan VIC
16. Melville Caves, Brenanah VIC
17. Sailors Falls, Sailors Falls VIC
18. Rise and Shine Nature Conservation Reserve, Strangways VIC
19. Alexandra Gardens, Ararat VIC
20. Rock of Ages, Maldon VIC
21. Welcome Stranger Monument and Picnic Area, Moliagul VIC
22. Loddon River Weir Walking Track, Baringhup VIC
23. Avoca River Nature Trail, Avoca VIC
24. Forest Creek Historic Gold Diggings, Castlemaine VIC
25. Lake Burrumbeet Nature Walk, Burrumbeet VIC
26. Mount Moliagul Lookout, Moliagul VIC
27. Black Hill Reserve, Ballarat VIC
28. Battery Dam and Distillery, Daisy Hill VIC
29. Vaughan Springs, Vaughan VIC